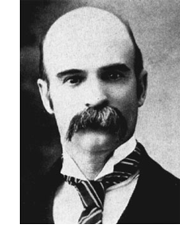 The Froggatt Awards are named in honour of Australian entomologist Walter Froggatt, who, when the cane toad was released into Australia in the 1930s to control beetle infestations in the sugar cane industry, was a lone voice, lobbying the federal government to exercise caution.
At the time Walter wrote that 'this great toad, immune from enemies, omnivorous in its habits, and breeding all year round, may become as great a pest as the rabbit or cactus'.
His lobbying efforts were initially successful, but overturned in 1936, and cane toads were released throughout the sugar cane regions of Queensland. The rest is history.
It was this realisation in 2002 that spurred a number of committed environmentalists to create the Invasive Species Council.
Now, invasive species have become one of the largest threats facing Australia's natural environment, but their continued arrival and spread is all too often neglected as a conservation issue.
The Froggatt awards are given to those who have made a major contribution to protecting Australia's native plants and animals, ecosystems and people from dangerous new invasive species.
Froggatt awards 2018
Community advocacy
Awarded to Save Kosci Inc for organising a 560km, 36-day protest walk from Sydney to Mt Kosciuszko in November and December 2018.
Save Kosci Inc was formed when a group of bushwalkers became alarmed at legislation passed by the NSW Parliament in June 2018 that protected feral horses in Kosciuszko National Park. Already they were concerned about the rapid increase in horse damage in their beloved national park. The legislation would make a serious problem more intractable.
Save Kosci undertook the logistics for the long-distance walk including route planning, securing permission form land managers and police, walker registration and accommodation, vehicle support and walker safety.
More than 600 people participated in the event. Five walkers undertook the full 36 day walk to Mt Koscisuzko joined by other walkers completing shorter sections. The walk culminated in the ascent of the Mt Kosciuszko summit where 200 walkers converged from several directions.
Walkers along the way met with state politicians and local businesses and organisations. A protest was held outside the local office of the architect of the horse protection legislation, Deputy Premier John Barilaro.
The walk was a complex undertaking organised will little lead time. It succeeded in drawing public attention to the impacts of feral horses in Kosciuszko National Park and inspiring people to become more active in seeking action to solve the problem.
---
Communication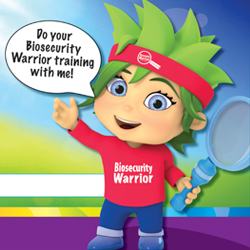 Awarded to NSW Department of Primary Industries, creator of the Biosecurity Warrior character ambassador and education program, for spreading the message that we all need to play a role in biosecurity.
The Biosecurity Warrior was first created as an interactive exhibition in the Food Farm of the 2017 Sydney Royal Easter Show. It featured a fun child-like action character that promoted messages about what people can do to prevent and avoid the spread of weeds, feral animals, ants, plant and animal diseases and other invasive species.
The Biosecurity Warrior campaign aims to turn everybody in Australia into a biosecurity warrior and has featured at the 2017 and 2018 Sydney Royal Easter Show. The interactive exhibition included a video, simple games, a weed quiz, children's workbook and other handouts.
The campaign plans to expand with the creation of a 'nemesis' character, a website and reward the efforts of individuals. Other states including Tasmania and Queensland have expressed interest in adopting the character.
---
Control and Eradication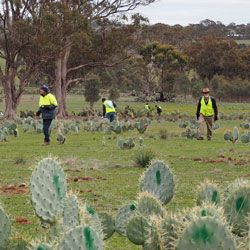 Awarded to the Tarrangower Cactus Control Group, formed when three landcare groups in 2005 set about to tackle the growing problem of wheel cactus (Opuntia robusta) in the Maldon, Baringhup and Nuggety districts of central Victoria.
Wheel cactus, originally from Mexico, was first planted as an ornamental garden plan and his since escaped into parts of Victoria from as early as the 1960s.
They held field days and training workshops and offered free herbicide and lending of equipment. They had a high-profile presence at the yearly Easter parade. Their aim was to seek the cooperation of every landholder that had wheel cactus on their properties. They have drawn on university students, local scouts and even Work for the Dole crews.
They have also contributed to state and national policy development, including the first-ever Victoria-wide map of wheel cactus and the Managing Opuntoid Cacti in Australia manual.
In 2017 they were awarded the 2017 Landcare Community Group Award and in 2016 the Parks Victoria Kookaburra Award. Vice President of the control group, Ian Granda was awarded Maldon Citizen of the Year in 2011.
More info
Image: Walter Froggatt, source https://www.anbg.gov.au/biography/froggatt-walter-wilson.html