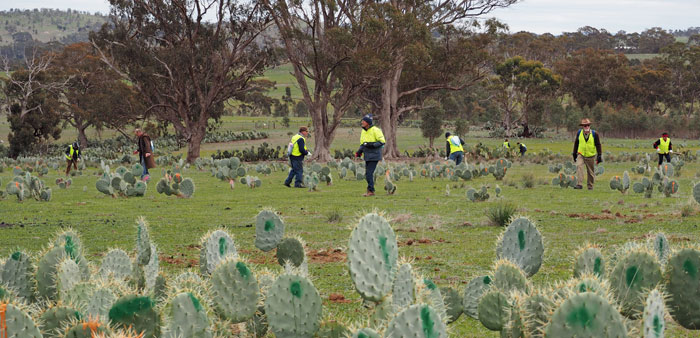 They've lured university students, local scouts and even Work for the Dole crews into their scheme to rid invasive wheel cactus from their part of Victoria, and now a little community group in central Victoria has received a national Froggatt Award.
"The Tarrangower Cactus Control Group have gone to extraordinary lengths to turn the tables on wheel cactus, a weed that escaped gardens in the 1960s and began taking over local bushland," Invasive Species Council CEO Andrew Cox said today.
"Their passion for protecting the natural environment from wheel cactus, a highly invasive and extremely difficult plant to kill, has roped all sorts of people into their program.
University students, local scouts and even drought relief and Work for the Dole crews have all joined the cause to rid the area of wheel cactus."
The Tarrangower Cactus Control Group has contributed to state and national policy development, including the first-ever Victoria-wide map of wheel cactus and the Managing Opuntoid Cacti in Australia manual.
Froggatt awards were also given this year to an intrepid band of bushwalkers who led a feral horse protest walk all the way from Sydney to Mt Kosciuszko and to the creators of a green-haired Biosecurity Warrior.
About the Froggatt Awards
Invasive species have become one of the biggest threats facing Australia's natural environment, but their continued arrival and spread is all too often neglected as a conservation issue.
The Froggatt Awards are given out by the Invasive Species Council every year and are named in honour of Australian entomologist Walter Froggatt, a lone voice in the 1930s warning of the dangers of releasing the cane toad into Australia to control beetle infestations in sugar cane.
The awards are given to those who have made a major contribution to protecting Australia's native plants and animals, ecosystems and people from dangerous new invasive species.