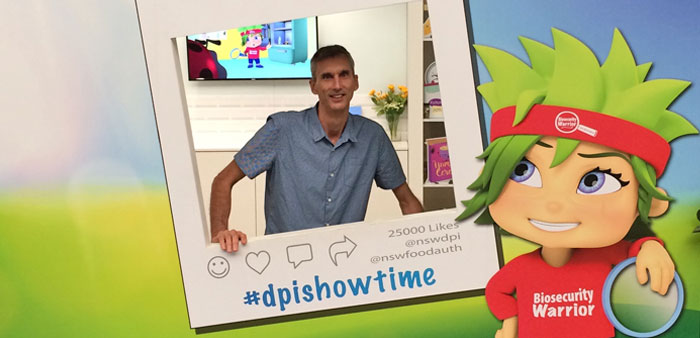 A plan to turn everyone in NSW into a 'Biosecurity Warrior' has landed a national environment award.
"The Biosecurity Warrior campaign has won a national Froggatt Award for taking a fun, interactive approach to spreading the message that we all need to play a role in biosecurity," Invasive Species Council CEO Andrew Cox said.
"The NSW Department of Primary Industries took a step into the unknown when it came up with a green-haired, child-like action hero whose mission is to lead the charge on defending Australia against weeds, bugs and bacterial thugs.
"That decision has paid off by showing people the way when it comes to preventing and avoiding the spread of weeds, feral animals, ants, plant and animal diseases and other invasive species."
The campaign has featured at the 2017 and 2018 Sydney Royal Easter Show. The interactive exhibition includes a video, simple games, a weed quiz, children's workbook and other handouts.
The campaign plans to expand with the creation of a 'nemesis' character, a website and by rewarding the efforts of individuals. Other states including Tasmania and Queensland have expressed interest in adopting the character.
Froggatt awards were also given this year to an intrepid band of bushwalkers who led a feral horse protest walk all the way from Sydney to Mt Kosciuszko and to a community group in Victoria that has gone to extraordinary lengths to rid their landscape of wheel cactus.
About the Froggatt Awards
Invasive species have become one of the biggest threats facing Australia's natural environment, but their continued arrival and spread is all too often neglected as a conservation issue.
The Froggatt Awards are given out by the Invasive Species Council every year and are named in honour of Australian entomologist Walter Froggatt, a lone voice in the 1930s warning of the dangers of releasing the cane toad into Australia to control beetle infestations in sugar cane.
The awards are given to those who have made a major contribution to protecting Australia's native plants and animals, ecosystems and people from dangerous new invasive species.