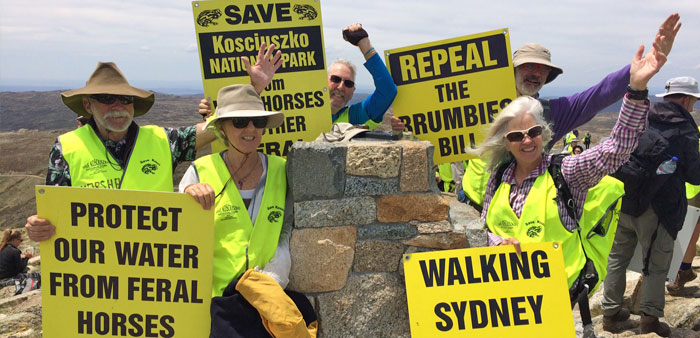 A band of avid bushwalkers who organised a protest walk all the way from Sydney to Mt Kosciuszko this year have won an annual Froggatt Award.
"As soon as the NSW Government decided to protect feral horses in Kosciuszko National Park instead of looking out for the park's intrinsic natural values and threatened species the Save Kosci walkers swung into action," Invasive Species Council CEO Andrew Cox said today.
"More than 600 people took part in the event, and five walkers covered the entire 560km route in just 36 days.
"The Save Kosci walkers sent a powerful message to the NSW Government that putting the interests of a few brumby lobbyists ahead of the state's most iconic national park is a serious error of judgement that must be rectified."
The walk was a complex undertaking organised with little lead time. It succeeded in drawing public attention to the impacts of feral horses in Kosciuszko National Park and inspiring people to become more active in seeking action to solve the problem.
Froggatt awards were also given this year to the creators of a green-haired Biosecurity Warrior in NSW and a community group in Victoria that has gone to extraordinary lengths to rid their landscape of wheel cactus.
About the Froggatt Awards
Invasive species have become one of the biggest threats facing Australia's natural environment, but their continued arrival and spread is all too often neglected as a conservation issue.
The Froggatt Awards are given out by the Invasive Species Council every year and are named in honour of Australian entomologist Walter Froggatt, a lone voice in the 1930s warning of the dangers of releasing the cane toad into Australia to control beetle infestations in sugar cane.
The awards are given to those who have made a major contribution to protecting Australia's native plants and animals, ecosystems and people from dangerous new invasive species.
Reclaim Kosci
The Invasive Species Council is fighting back against the failure to protect Kosciuszko National Park from feral horses and is the lead organisation behind Reclaim Kosci, which is:
Raising awareness about the impacts of feral horses in Kosciuszko National Park.
Championing the campaign to repeal the Kosciuszko Wild Horse Heritage Act 2018.
Seeking a substantial reduction in the feral horse population in Kosciuszko National Park through humane and effective means.
[button link="https://reclaimkosci.org.au/"]Visit ReclaimKosci.org.au >>[/button]