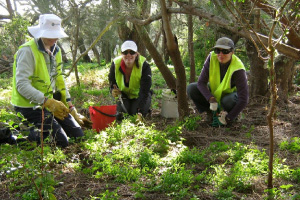 Meetings will be held during March 2014 in seven locations throughout NSW to hear about the Natural Resources Commission's draft report on weed management.
Several weeks ago the commission released its draft report after being asked to review weed management by the NSW Minister for Primary Industries.
We are delighted that many of the key reforms we had been seeking have been embraced in the draft recommendations.
Please attend one of the public meetings being held by the NSW Natural Resources Commission during March 2014. Meetings will be held at Grafton, Armidale, Dubbo, Cowra, Sydney (Parramatta), Wagga Wagga and Nowra.
To learn about the draft report, see our submission guide. Submissions are due Sunday 6 April 2014.
Public meeting details
The Natural Resources Commission is holding seven public information meetings throughout NSW at the following locations:
Wed 19 March, Grafton
South Grafton District Ex-Servicemen's Club, 2 Wharf St at 9am to 12 noon
Thu 20 March, Armidale
City Bowling Club, 92 Dumaresq St at 9am to 12 noon
Fri 21 March, Dubbo
RSL Club Resort, Cnr Brisbane and Wingewarra Sts at 9am to 12 noon
Tue 25 March, Cowra
Cowra Services Club, 101 Brisbane Street at 11 am to 2pm
Wed 26 March, Parramatta (Sydney)
Rydges Parramatta, 116-118 James Ruse Drive at 1pm to 4pm
Thu 27 March, Wagga Wagga
Wagga Wagga Commercial Club, 77 Gurwood St at 12 noon to 3pm
Fri 28 March, Nowra
Nowra Golf Club, Fairway Drive North Nowra at 12 noon to 3pm
Please RSVP your attendance with the NRC at weeds.review@dpi.nsw.gov.au.
More info