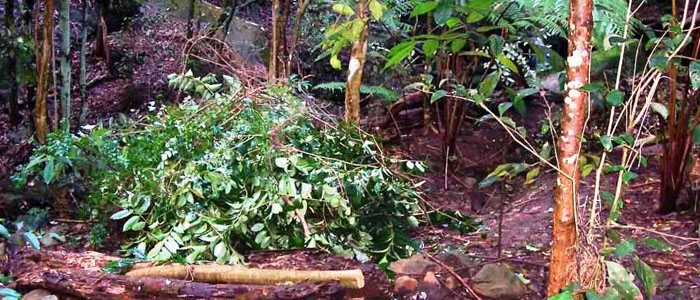 A concerned supporter on the NSW South Coast recently sent us this email exchange after seeing privet hedges featured at The Foxglove Gardens, an extensive private garden and function centre at Tilba Tilba.
We visited your gardens recently, I hadn't been there for about 10 years so it was nice to have a look again. I was however alarmed to see extensive plantings of small leafed privet as a hedging plant. This is a terribly invasive weed in this area, and there are many attractive and non weedy alternatives such as blueberry ash, silver screen pittosphorum or even photinias which are less invasive. I hope you will consider removing them while it is still easy, and replacing with a more appropriate choice.
The Foxglove Gardens responded to our supporter's email:
You are quite right the privet can be very invasive, but your concern is ungrounded. If the seeds are never allowed to form the privet is fine. Please check out Paul Bangays work. He is a well known Landscape architect and has used this plant in a number of his gardens. We do have a Photinia hedge in the garden as well as other hedges. We chose the small leaf privet as a hedge because, as Paul says, it is a fast grower. The photinia on the other hand is quite slow.
Lucky it is our garden and we can choose exactly what we want. We have been in the landscape industry for over 20 years now and do have some knowledge along the lines of weeds and invasive plants. We have rather a large problem with Madira vine along with countless of other invasive weeds that did not materialise here over night. We work here 24/7 and will get to all problems as priority dictates. Once again thank you for your visit.
Narrow-leaf and broad-leaf privet (Ligustrum sinenses and Ligustrum lucidum) can be legally sold in NSW plant nurseries while in 57 local government areas, privet must be actively controlled on private property. In Bega Council, where Foxglove Gardens is sited, there are no controls on the sale, planting and control of privet. Privet infests many NSW South Coast river systems, being a common garden escapee.
Let us know
We'd like to hear your thoughts about the risk posed by privet hedges in gardens. Should privet be allowed to be sold in plant nurseries?
Make a comment below