The responses to our election survey are in and we can now let you know what the main parties propose to do to address the threat of invasive species to the natural environment. Our questions were based on eight reform priorities we put to the main parties.
Major parties
In short, the Greens support most of the Invasive Species Council's proposals to improve our biosecurity system, the Coalition have shown interest in strengthening some parts of the broader biosecurity system while Labor proposes small improvements, but nothing of substance to advance environmental biosecurity.
See below how the Greens, Liberals/Nationals and the Labor Party rate against our eight questions. Note that the parties do have other biosecurity policies which may be beneficial for conservation – for example, support for on-ground control programs.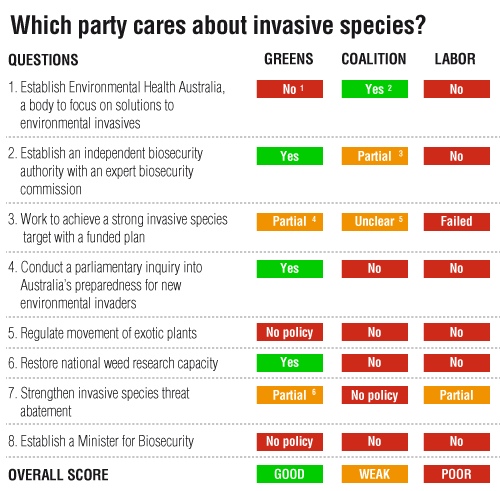 Greens: The Greens support the establishment of an independent, science-based biosecurity authority supported by a commission of experts to make biosecurity decisions based on risks. This would be a major improvement on the current system that lacks independence and transparency. The Greens also support the Invasive Species Council's call for a Parliamentary inquiry into Australia's preparedness for new environmental invaders.
Coalition: The Liberal National coalition has consistently worked to critique failures in the broader quarantine system that threatens the agricultural sector. Environment spokesperson, Greg Hunt, supports Invasive Species Council's proposal for Environment Health Australia, an institution to foster collaborative ecological solutions for invasive species.  The Coalition has announced biosecurity improvements as part of its Agriculture Policy that include $20M in new money for a Biosecurity Flying Squad to quickly respond to new outbreaks and a review of the risk assessment process to lower the risk of new incursions and to make better use of science.
The Coalition has promised to create a 'green army', to preserve funding for Caring for our Country and better support Landcare but will close down the $1B Biodiversity Fund that helps tackle on-ground weed and pest problems. There may be additional effort to tackle some weed and feral animal problems but for the Coalition to meet its stated goal to reverse environmental decline in five years it will need to do much more to respond to Australia's massive invasive species threats.
Labor: 
Labor has squandered a major opportunity to reform the biosecurity system, backing down on the key recommendations of a major 2008 inquiry to establish an independent biosecurity authority and better resource the sector. The Biosecurity Bill, now stalled in the Senate, ignored many environmental and industry concerns and failed to reform decision-making processes to ensure transparency, independence, community involvement and consistently science-based decisions. There were some positive aspects of the Bill such as a national system for ballast water regulation.
Labor's Caring for our Country program will continue to support on-ground control of many weeds and feral animals. Labor has promised a modest $20m for a new Community Weed Management Fund to 'eradicate Australia's most noxious weeds'. These funds presumably replace the recently axed Weeds of National Significance program, but without the coordination.
Other parties:
We have also reviewed the policies of many of the minor parties. Only Katter's Australia Party and One Nation mention biosecurity. Some minor parties will be much better than others on the environment more generally, which will help with invasive species management. For example, the Animal Justice Party advocates some strong conservation measures.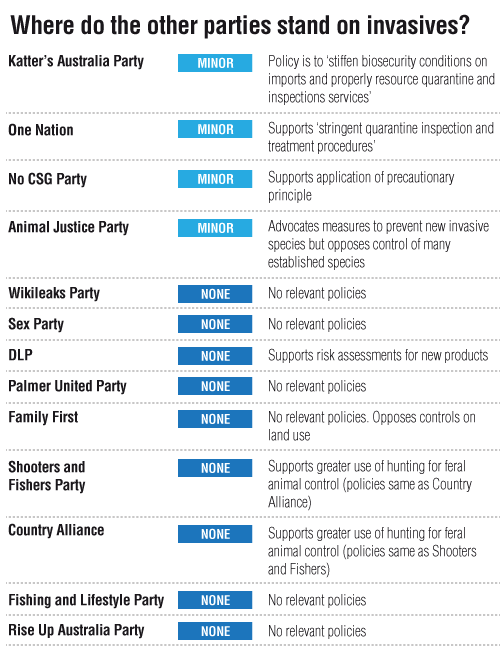 More details
We've posted a more detailed review of the main party policies, our survey and the party responses at our Election pages.
Authorised by Andrew Cox, 88b Station St, Fairfield, Vic, 3078.
---