Our work is and always will be about stopping the invasion and spread of hostile weeds, pest animals and diseases that threaten our natural environment. It's our core business.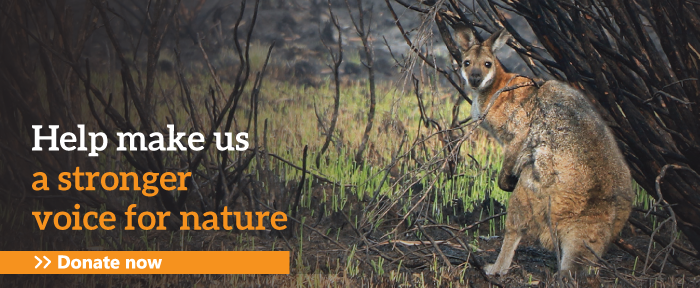 You can see it in the critical role we played during the bushfire crisis, leading calls for recovery efforts to focus on protecting our wildlife from feral cats, foxes and hard-hooved herbivores such as goats, pigs and feral deer.
You can also see it in our work re-activating Australia's fight to eradicate red imported fire ants before this terribly destructive environmental invader spread out of control.
We have shown that we are a powerful voice for nature, but we need to be stronger.
Can you make a tax deductible donation now to help fund our fight to protect the nature of Australia from invasive species?
What's next?
We have just started work on an exciting new project that will have far-reaching consequences for the protection of Australia's threatened species.
Australia is one of the few countries in the world with a system to reduce the main threats to nature – in particular invasive species, climate change, habitat destruction, changed fire regimes and hydrological regimes. But this system is failing.
Already we have lost 90 unique plants and animals to extinction. Of the birds, mammals, frogs and lizards now gone forever, three quarters fell victim to the spread of invasive species.
What would it take to overcome the major threats to nature in this country? We want to find out through our new project Threats to Nature.
We will work with experts to devise an approach that reduces and manages the threats to save more of our plants and animals from extinction. Through Threats to Nature we will once again step into the breach, leading the way when governments fail.
Can you help by making a tax deductible donation today?
Fighting for nature
Despite our size, we are a powerful voice for conservation in Australia. We were founded about this time 18 years ago by far sighted individuals sick of seeing wave after wave of weeds, feral animals and other pests destroying the natural places they loved.
Tim Low wrote a whole book about it – Feral Future – and inspired action to address a major gap in the effort of conservation organisations. That action resulted in us, the Invasive Species Council.
We know we still have a long way to go. Even today, scientists continue to recognise invasive species as the major ongoing threat to our native plants and animals, if not nature's greatest threat.
The financial support of people like you has fuelled our fight for the nature of Australia for almost two decades now.
Please, give generously now so that we can protect Australia from the growth of feral animals, weeds and environmental diseases, and continue to be one of nature's strongest advocates.
Andrew Cox, CEO
PS: Please donate online now and help us be a force to be reckoned with and help halt invasive pests and diseases.