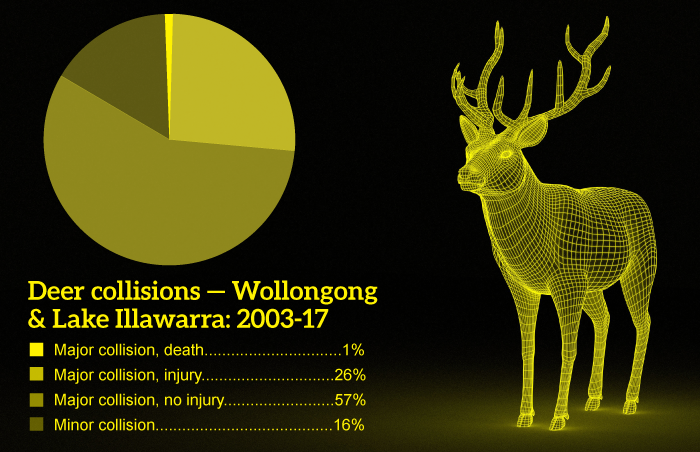 An investigation by the Invasive Species Council reveals that feral deer in the Illawarra region south of Sydney are putting drivers at risk of costly collisions and even death.
The Illawarra is a deer hotspot, with increasing numbers creating havoc for motorists. Since 2011 major land managers and the two local councils have coordinated a deer control program to minimise the damage caused by feral deer. Despite more than 2000 deer being culled, we can now confirm that deer are still a major problem for motorists.
Data released under a freedom of information request shows that the suburbs of Helensburgh and Otford have recorded the most major collisions between motorists and feral deer over the past 13 years, with one fatality in 2012.
The information showed all recorded vehicle collisions involving feral deer in the Wollongong and Lake Illawarra police command areas from 2005 to 2017.
There were 107 motor vehicle accidents, 90 rated as 'serious', including 28 resulting in injuries and one death. The single fatality occurred in 2012 on West Dapto Rd in Kembla Grange.
Helensburgh recorded 18 major collisions with deer since 2005, followed by Otford with 10, Mount Ousley with seven and Figtree recording five.
The most dangerous roads in those areas for feral deer collisions are the F6 Freeway, on which 18 collisions were recorded, followed by Lady Wakehurst Drive with 14, the Princes Highway with eight and Lawrence Hargrave Drive six.
Across the state, deer numbers are rapidly growing, with the proportion of the state impacted by feral deer more than doubling from 8% in 2009 to 17% in 2016, with most deer found in the state's eastern third.
The data was retrieved by an information request under the Government Information (Public Access) Act to NSW Police and provided from the NSW Police Computerised Operational Policing System (COPS).
The results paint a worrying picture. Reviewing the data on a yearly basis, deer collisions are still occurring despite the coordinated control efforts.

Hidden figures
The data showed a major reduction in collisions from 2015. On inquiring with NSW Police Wollongong district command, the Invasive Species Council was told that this was due to changed statewide reporting protocols introduced at the start of 2015. Under the new protocols, collisions entered in the COPS database can only be those where a car was towed, resulted in personal injury that required medical treatment or involved drugs or alcohol. Other collisions, even if resulting in major property damage, are no longer centrally reported.[1]
These protocol changes will result in the underreporting of all deer collisions in NSW, making it harder to identify priority areas for preventative action, and make historical comparisons more difficult.
Most dangerous suburbs and roads
The most frequent location for collisions was Helensburg, with 21 incidents, 9 of these occurring on the F6 freeway, followed by Otford (11) and Figtree (7) and Mount Ousley (7).
Table 1: Top ten most dangerous suburbs in the Illawarra for deer collisions
Suburb

Major collisions

Total collisions

Helensburgh

18

21

Otford

10

11

Mount Ousley

7

7

Figtree

5

7

Stanwell Park

3

5

Darkes Forest

5

5

Cataract

3

4

Berkeley

4

4

Lilyvale

4

4

Kembla Heights

4

4
There were 21 collisions on the F6, the freeway that connects Sydney's outer suburbs to Wollongong, while the Lady Wakehurst Drive that connects Royal National Park to Otford and coastal towns to the south, had 15 accidents during the period. There is a collision resulting in injury on the F6 on average once every two years. On average there are at least two vehicle accidents causing injuries in the Illawarra region every year.
Table 2: Top ten most dangerous roads in the Illawarra for deer collisions
Road

Major collisions

All collisions

F6 Fwy

18

21

Lady Wakehurst Dr

14

15

Princes Hwy

8

9

Lawrence Hargrave Dr

6

9

Mount Ousley Rd

7

8

Southern Fwy

5

5

Old Princes Hwy

4

4

O'Briens Rd

2

4

Cordeaux Rd

3

3

Mount Keira Rd

3

3
Data on the cost of collision damage was not held by the COPS database and was not provided.
More info
---
[1] pers comm.15 May 2018. Snr Constable Cotton, NSW Police, Wollongong.