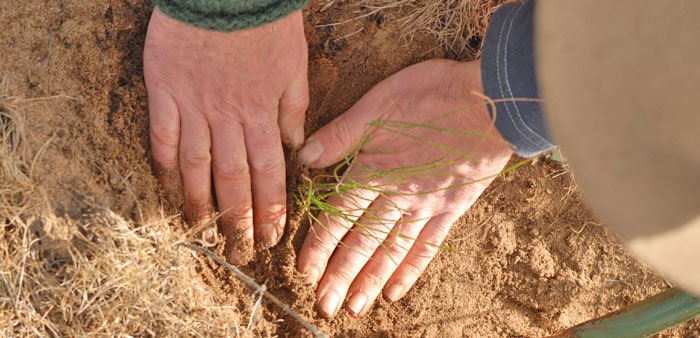 Australia has to be ready to bounce back from the coronavirus pandemic, and we're proud to one of the more than 80 landcare, farming and conservation groups that have put together a bridge to recovery jobs package to help with the recovery once it starts.
Worth $4 billion over four years it would include a surge in weed and feral animal control efforts, which are critical to protecting our threatened native species.
A joint letter sent to the Prime Minister outlines how investment in a jobs-rich conservation and land management program would create safe and meaningful work during a time of economic crisis.
Once Australia begins its economic recovery there is scope for tens of thousands of skilled and unskilled workers to be employed in conservation and land management.
A combined federal and state economic stimulus package could create 24,000 jobs in practical conservation programs such as weed and feral animal control, river restoration and bushfire recovery efforts.
Long road to recovery
The road to recovery will be a long one, but the land management and conservation sector stands ready to help in any way we can.
Our jobs package provides work for tens of thousands of skilled and unskilled workers in both regional and metropolitan areas. It would provide jobs for people who have lost work as a result of the pandemic – tradespeople, tourism workers, fisheries and forestry sectors.
Practical conservation activities that could be undertaken across public and private land include:
A surge in weed control efforts, focussed on containment and preventing cross-tenure spread.
River and wetland restoration, including fencing, revegetation and erosion control.
National park infrastructure, track maintenance and park management (fire, weeds, feral animals).
Bushfire recovery and resilience activities, including infrastructure repairs and habitat restoration.
Invasive animal control, including deer and pigs which impact on farming and threatened species.
Tree planting and habitat restoration in metropolitan, suburban, peri-urban and rural areas.
Funding for private land conservation, putting money in the hands of farmers and other land managers.
Coastal habitat restoration and monitoring, in partnership with the fishing industry and local communities.
Plastics and marine debris clean up, including research to inform future policy decisions.
Funding for Indigenous rangers to deliver jobs directly to vulnerable communities using a proven model.
It would provide much needed income and economic confidence for bulldozer and other machine operators, weed-sprayers, shooting and trapping contractors, fencers, nursery growers, hardware suppliers, local and Indigenous land managers and bush regenerators.
Based on extensive conservation land management experience across the country, we anticipate that a high proportion of operational and capital expenditure would stay in the local community, providing income for hardware stores, plant nurseries, pest control contractors and other local businesses.
More info