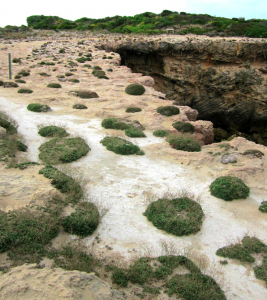 The Invasive Species Council has long argued for the need for a permitted list approach to restrict the sale and movement of plants across Australia to those assessed as having a low weed risk. Here botanist Bob Parsons explains how the current regulatory system favours the spread of the invasive cushion plants (Limonium species).
Limonium is a genus of low herbaceous perennials, occurring mainly in coastal areas in the Northern Hemisphere. The Sicilian L. hyblaeum, introduced to southern Australia probably as a garden plant, was first recognised as invading native vegetation as recently as 2008[i]. It is now causing the collapse of native salt marsh and exposed rocky coastal plant communities over a wide area.
Yet L. hyblaeum is still sold by some specialist nurseries and is grown for cut flowers and as an ornamental garden plant.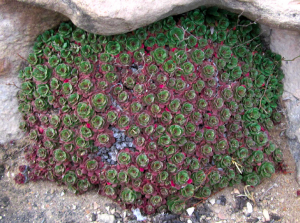 Another potentially serious weed is Limonium perezii, recorded as a weed in southern Australia but not yet treated as invasive. However, it is known to be highly invasive in California. Since at least 2011, this plant has been very widely promoted (eg on the ABC Gardening Australia program) and sold in the Australian nursery trade as Limonium 'Perezii Blue'. It is becoming very popular right now – in the suburban block of houses where I live in Melbourne, it has recently been planted in three front gardens. Both L. hyblaeum and L. perezii can be found in the nursery trade labelled as Sea Lavender or Statice.
Clearly, both these species should be removed from sale in Australia as quickly as possible and a permitted list approach introduced in all states that would prevent other similarly weedy species from being sold.
Dr Bob Parsons is an honorary research fellow in the Department of Botany, La Trobe University.
[i] Parsons B. (2013) Limonium hyblaeum (Plumbaginaceae), a cushion plant invading coastal southern Australia. Cunninghamia 13:267-274.