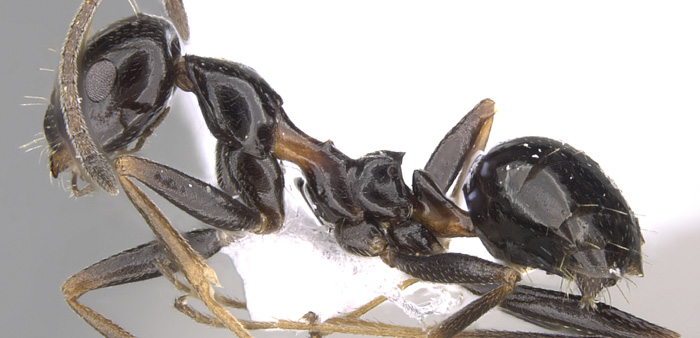 It feels like Australia is suffering a plague of invasive ants. The small size and versatility of ant colonies give them an upper hand when it comes to sneaking into our country, and if there is a gap in Australia's biosecurity systems, particularly at our maritime container ports, invasive ants will find it.
That's how the browsing ant made it into Australia. A small, dark brown ant up to 4mm in length, it was identified in the Darwin port area in August 2015. It most likely arrived from Timor Leste or Malaysia – both have strong trade links to Darwin. A smaller incursion of browsing ants had also been found at Perth airport in 2013 and both are cause for concern.
While the browsing ant is not as dangerous to humans as red fire ants, or as prolific in its threat to our native wildlife as the yellow crazy ant, they will outcompete local ants and insects.
Like the fire ant, they form super colonies and damage electrical infrastructure. They also reduce agricultural output and native vegetation by 'farming' other pest species like aphids and scale insects, which then damage the plants they are farmed on.
Did we reach them on time?
The browsing ants found in Darwin triggered a response under Australia's National Environmental Biosecurity Response Agreement. First five infested sites in and around the port of Darwin were uncovered. Once surveillance commenced more browsing ant sites were found over a larger area beyond the port.
Our biggest fear stems from the fact the infestations were centered around freight sites connecting the port to a distribution network. Did browsing ants hitch a ride to other parts of Australia before the biosecurity breach was discovered? How far could they have got? Are there now other, unreported browsing ant infestations in Australia?
These questions remain unanswered.
Case studies on environmental biosecurity responses
The key difficulty in responding once the expanded browsing ant infestation was uncovered highlights flaws in the way we respond to environmental invaders. Time is crucial, especially when the infestation is centered on freight and transport hubs as in both these cases.
The Northern Territory government-led browsing ant eradication has now gone through a time-consuming process to obtain government resources to handle the larger infestation.
A different but related problem occurred with the North Queensland electric ant eradication. A very successful program that had removed over 90% of electric ant infestation sites in the Cairns area however it was put in limbo in December last year when their funding under the national biosecurity response agreement ran out. In this case, the Queensland government stepped in and provided funding to ensure key staff, detector dogs and resources were not lost to the program and the past eradication efforts were not wasted.
We have previously written about how eradication efforts stopped for the tropical invasive weed Koster's curse after a second infestation was found, overwhelming the previously approved funding. A new cost-benefit study of the combined infestations was not undertaken when future nationally-funded eradication was ruled out.
In all three cases, the National Environmental Biosecurity Response Agreement has proved to be an inflexible, slow and unwieldy tool in responding to evolving environmental threats.
Future fears
The response in Perth was funded solely by the federal government and successfully controlled the browsing ant infestation at the airport.
However, we remain concerned about the area surrounding the airport and local transport and freight networks that could easily take browsing ants beyond the response zone. So far it remains unclear if a full vector analysis was carried out or if areas beyond the airport were surveyed.
Both the Perth and Darwin experiences reveal just how difficult it is to keep dangerous new invasive species out of Australia and to eliminate them if they breach our borders.
Gaps in our environmental biosecurity system continue to let in new invaders, and far too often we are failing to move hard and fast enough during the early stages of pest and disease invasions.
We failed to keep the plant-killing disease myrtle rust out of Australia. Now it's beyond control and has spread throughout the eastern seaboard. We can't afford to keep making the same mistakes.
If browsing ants have spread unknown across the country they are a ticking environmental time bomb.
There will be more updates on the browsing ant response in the coming months including government decisions about funding.