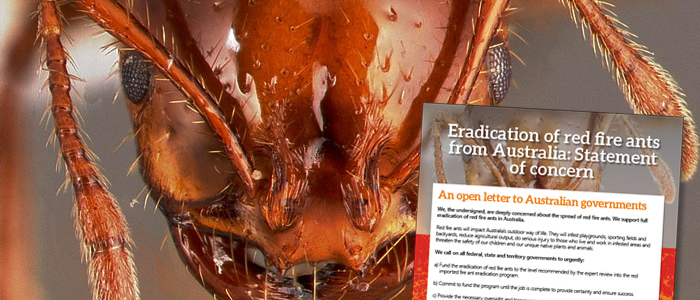 Australia's fire ant infestation is a national issue and needs powerful voices from across the country to call on every state, territory and the federal government to fully fund their eradication.
Already the National Farmers' Federation, AgForce, Local Government NSW, Victorian National Parks Association and the Nature Conservation Council have signed our open letter calling for the eradication of fire ants from Australia, but we need many more voices.
If Australia fails to eradicate fire ants almost no corner of the continent will be safe from these menacing predators. Once out of control fire ants will threaten every aspect of Australian life, including our farming communities, schools, sports grounds, tourism industries and unique natural heritage.

An open letter to Australian governments
We, the undersigned, are deeply concerned about the spread of red fire ants. We support full eradication of red fire ants in Australia.
Red fire ants will impact Australia's outdoor way of life. They will infest playgrounds, sporting fields and backyards, reduce agricultural output, do serious injury to those who live and work in infested areas and threaten the safety of our children and our unique native plants and animals.
We call on all federal, state and territory governments to urgently:
Fund the eradication of red fire ants to the level recommended by the expert review into the red imported fire ant eradication program.
Commit to fund the program until the job is complete to provide certainty and ensure success.
Provide the necessary oversight and transparency to ensure that eradication efforts are effective and accountable to governments and the public.
Ensure that effective biosecurity measures are in place to prevent the arrival of new infestations of red fire ants.
Download the full statement of concern and supporting statements >>
Please enter your organisation's details below in support of the Statement of concern. Every voice counts.
We will publish your organisation name, supporting statement, spokesperson and logo to indicate your support for this open letter to Australia's governments.
More info