A new election scorecard shows the tough guy image cultivated by Barnaby Joyce when kicking Johnny Depp's pooches Pistol and Boo out of the country has all but evaporated, with the agriculture minister proving to be a real pussy cat when it comes to tackling Australia's true biosecurity dangers.
"Invasive species like red fire ants and yellow crazy ants are among Australia's biggest environmental challenges. They are the main threat facing our declining mammal populations, frogs and possibly plants and their impacts are as severe as climate change and habitat loss," Invasive Species Council CEO Andrew Cox said today.
"How the next Australian Government tackles these challenges will have lasting impacts on the health of our outdoor lifestyles, our native plants and animals for generations to come."
The council scored all political parties and independents in the current federal parliament for their performance on 12 key issues surrounding the risks posed by dangerous invasive species.
"Our election scorecard shows the Greens as clear front runners when it comes to protecting Australia from the real environmental biosecurity threats, racking up a solid 9 plus out of 12," Mr Cox said.
"Labor is a long way behind but showing promise with 5 out of 12. Barnaby Joyce and the Coalition have proved to be real pussy cats, claiming the wooden spoon with a disappointing 1 and a bit out of 12.
"In a nutshell we can confidently say that when it comes to protecting the Australian environment from dangerous invasive species the Greens are way out in front, Labor finally gets it and the Coalition? Well, they're all at sea."
[toggle title_open="See less" title_closed="See our full scorecard >>" hide="yes" border="yes" style="default" excerpt_length="0″ read_more_text="Read More" read_less_text="Read Less" include_excerpt_html="no"]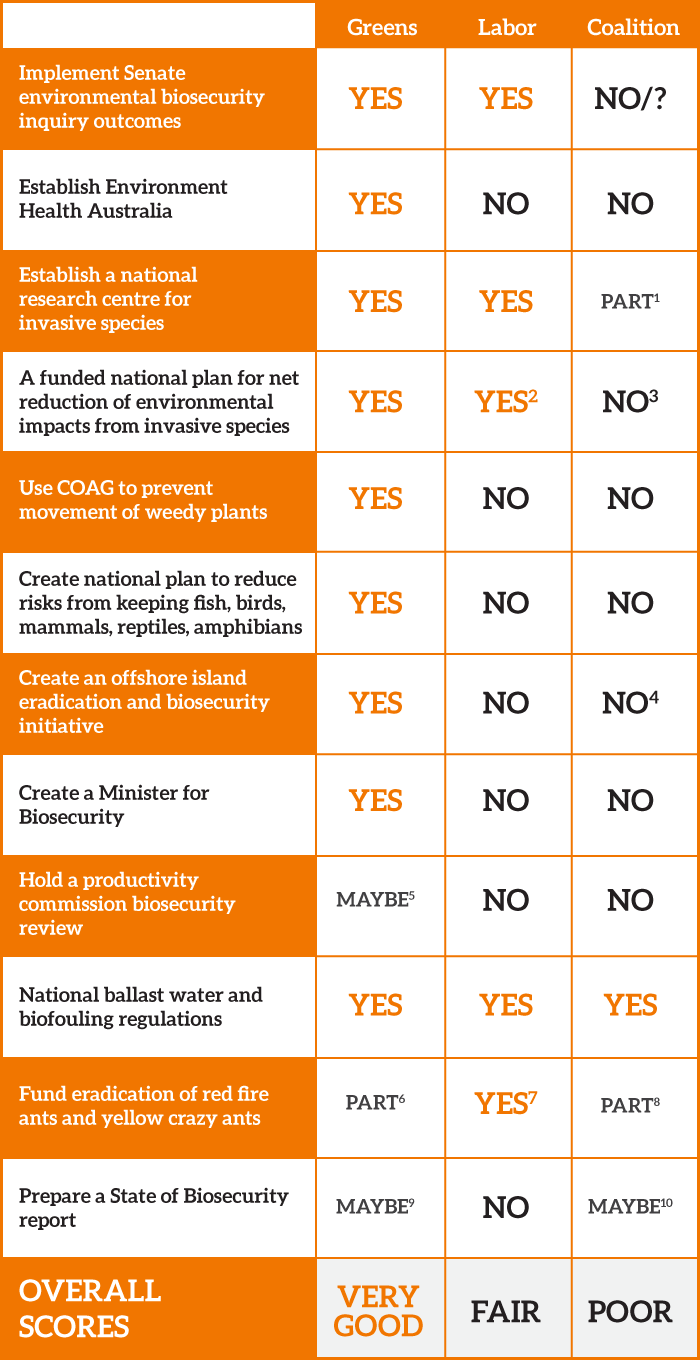 KEY
YES = Promised to implement initiative in full. Refer to individual responses.
NO = No.
NO/? Unknown
NOTES
The Coalition proposal for $20 million over 5 years for Invasive Species Solutions research centre will only address invasive animals.
While Labor answered yes to this question in their response to our survey, there is no funding commitment or detailed policy to support it.
Coalition action to reduce the impact of feral cats is taking place as part of the 2015 Threatened Species Strategy.
The Coalition promised to eradicate feral cats from five islands, with $500,000 each for Bruny and Kangaroo islands.
The Greens' response is conditional on biosecurity reforms not being successful after five years
The Greens promised $17.5M for yellow crazy ant eradication from Cairns and Kuranda. There is no information about their position on other yellow crazy ant infestations or red imported fire ants.
Labor answered yes to this question in their response to our survey but so far have only publicly promised $7.5M of the $11M shortfall of funds for yellow crazy ants from Cairns and Kuranda.
The Coalition promised $7.5M of the $11M shortfall of funds for yellow crazy ants from Cairns and Kuranda. There is no information available about the Coalition position on red imported fire ants. Opposed to funding eradication of other infestations of yellow crazy ants.
The Greens' response is conditional on biosecurity reforms not being successful after five years.
Under a Coalition government, the Department of Agriculture and Water Resources confirmed in 2015 that a national State of Biosecurity report will be prepared but there has been no public statement about this. Preliminary work commenced in 2016.
[/toggle]
About the survey
Political parties and independents were quizzed on a range of subjects including eradicating dangerous invasive ants, supporting invasive species research and offshore island biosecurity.
"The Coalition rated 'poor' because their policies fail to recognise the environmental threat of future invasive species except where they impact on agriculture or fishing industries," Mr Cox said.
"This type of thinking means that serious threats to the environment are ignored. Only their work on marine pests, yellow crazy ant funding and an invasive animals research body earned them points."
Labor was rated 'fair', a big turnaround from the 2013 election when its invasive species policies were rated as 'poor'.
"Labor backs the full implementation of the Senate biosecurity inquiry findings, supports creating an Australian Institute for Biosecurity and would fund a national plan to reduce invasive species impacts.
The Greens scored positively with 9 out of 12, with the remaining three partly met. They back the Senate inquiry findings and are committed to major reform aimed at preventing the flow of new invasive species into Australia. They also support a national biosecurity authority proposed in an independent biosecurity review and backed by industry groups.
Tasmania's Andrew Wilkie scored full points, notching up 12 out of 12, and the Glenn Lazarus Team supported all of the Invasive Species Council's proposals, with just two minor qualifications.
"We will be urging a vote for invasive species to the people battling yellow crazy ants in Queensland's wet tropics, the local landcare and coastcare groups right around the nation that give up countless weekends to battle environmental weeds, and others concerned about our environment," Mr Cox said.
For comment
More information
Authorised by Andrew Cox, 88b Station St, Fairfield Vic 3078.