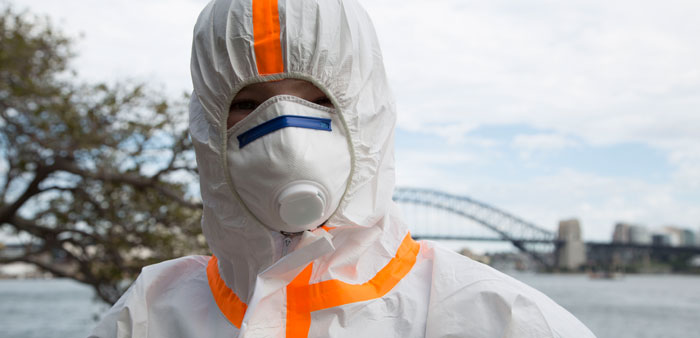 Australia Day is a time when many celebrate and enjoy our country's outdoor way of life, but this year Brisbane and Sydney have been given a taste of their first ever 'fire ant picnics'.
"Fire ants have killed more than 85 people in the southern United States and currently infest areas from Brisbane to the New South Wales border, and they are spreading," Invasive Species Council CEO Andrew Cox warned today.
In a taste of what's to come if deadly fire ants are not brought under control and eradicated, picnickers suited up in heavy, protective, full body clothing at Sydney's iconic Lady Macquarie's Chair and Brisbane's South Bank to take part in Australia's first ever fire ant picnics.
One participant described the picnic as a living hell and was desperate to slip out of their protective body clothing and into a pair of thongs, shorts and a t-shirt.
"Governments have spent the past 15 years and more than $320 million fighting fire ants, but it hasn't been enough and they've only managed to slow the fire ant spread," Mr Cox said.
"The eradication program has been beset by poor planning and a lack of fire ant baiting simply because of insufficient funds. Australia's fire ant infestations would be a thing of the past if the program had been properly funded in the first place.
"We need a fully funded, 10-year eradication plan as recommended by an independent review report last year."
Fire ant stings have killed more than 85 people in the southern United States where they are out of control. If they are not eradicated in Australia they would cause deaths as well as thousands of extra medical presentations each year.
"If fire ants are not eradicated they will change the Australian way of life – infesting parks and sporting fields, farms and even our own backyards, making them unusable," Mr Cox said.
"In this environment Australia Day picnics would become a thing of the past for anyone not wearing heavy protective clothing, as demonstrated by our fire ant picnics in Sydney and Brisbane."
For comment
Outreach Officer Reece Pianta, 0422 935 665.