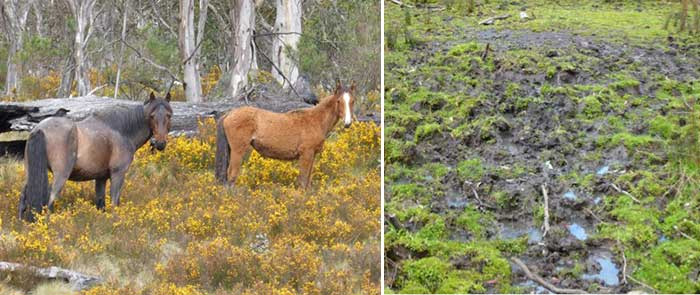 JOINT MEDIA RELEASE
Invasive Species Council
NSW Nature Conservation Council
National Parks Association of NSW
Colong Foundation for Wilderness
Leading conservation groups have welcomed NSW Labor's pledge to protect the state's fragile Snowy Mountains from large herds of ecologically destructive feral horses.
The NSW Nature Conservation Council, National Parks Association of NSW, the Invasive Species Council and the Colong Foundation for Wilderness have also welcomed Labor's promise to increase funding for feral animal control and restore funding for the NSW National Parks and Wildlife Service.
NCC CEO Kate Smolski:
"The ALP position restores sanity to this debate. The Coalition has taken the debate off the rails with its irresponsible plan to protect large herds of feral animals in our national parks.
"Thousands of horses in the Snowy Mountains are endangering the survival of 31 uniquely Australian species. We call on all parties to support effective, humane measures to control feral horses in our national parks. The Labor position will help achieve that."
NPA CEO Alix Goodwin:
"We applaud the ALP for putting science and conservation before base politics. Large herds of feral horses are threatening iconic Australian species like the corroboree frog, so they have no place in our national parks.
"The Berejiklian government's foolish policy to protect thousands of hard-hooved animals will wreck the high country, drive many Australian species to the brink and pollute the clean mountain streams that are critical for downstream users."
Colong Foundation Director Keith Muir:
"I am delighted that NSW Labor has done the right thing and stood by national parks and nature conservation on the matter of horse management in Kosciuszko National Park.
"There's great pressure on the Opposition when a state election looms to allow marginal seat concerns like those in the seat of Monaro dictate conservation policy. Today we see that Luke Foley and NSW Labor have stood by national parks to ensure they remain protected, forever."
Invasive Species Council Andrew Cox:
"Labor support for the 2016 feral horse control plan is a very big step forward for conservation.
"The plan's strength was that it drew on community views to address the exponential growth in horse numbers while respecting science and animal welfare. NSW Deputy Premier John Barilaro's plan fails miserably on all these counts."