By Andrew Cox
As I looked out the window of my flight coming into Sydney's Kingsford Smith Airport I thought I was seeing things. Was that a field of pampas grass right in the heart of Sydney?
I had grown up attuned to pampas grass. In the 1970s the NSW Government ran a high-profile campaign to eradicate the showy grass that grows to almost two metres. It had been pride-of-place in my parent's front garden, the feathery white flowers were like torches reaching for the sky.
But according to worried government weed authorities it had to be removed. My parents dutifully complied, cutting out and destroying their garden centre piece. It wasn't easy either, the razor-sharp leaves easily slice through skin.
The weed authorities were rightly concerned, the feathery seed heads of pampas grass are easily picked up by the wind and blown long distances, settling further and further afield in Sydney's favourable climate.
Now that work is being undone.
After returning home from my flight I analysed the photo I'd taken while in the air more closely. Yep, even at this coarse resolution, it looked clear that a block of land close to Alexandra Canal, an old industrial cargo waterway that drains into Botany Bay, was covered in pampas.
A field trip confirmed my suspicions. The 3.2 hectare vacant block, about 1 km from Sydney airport, contained about 10,000 pampas grass plants, all in full flower. Even worse the land is adjacent to a major container terminal and railway siding, with high walls of containers metres from the weeds. Pampas seed could easily hitch a ride on trucks and trains before geminating throughout the state and beyond.
Hundreds of flowering pampas also lined Alexandra Canal, all within sight of Canal Road, one of Sydney's busiest roads and which connects the airport with eastern Sydney, on to the Princes Highway and areas to the west.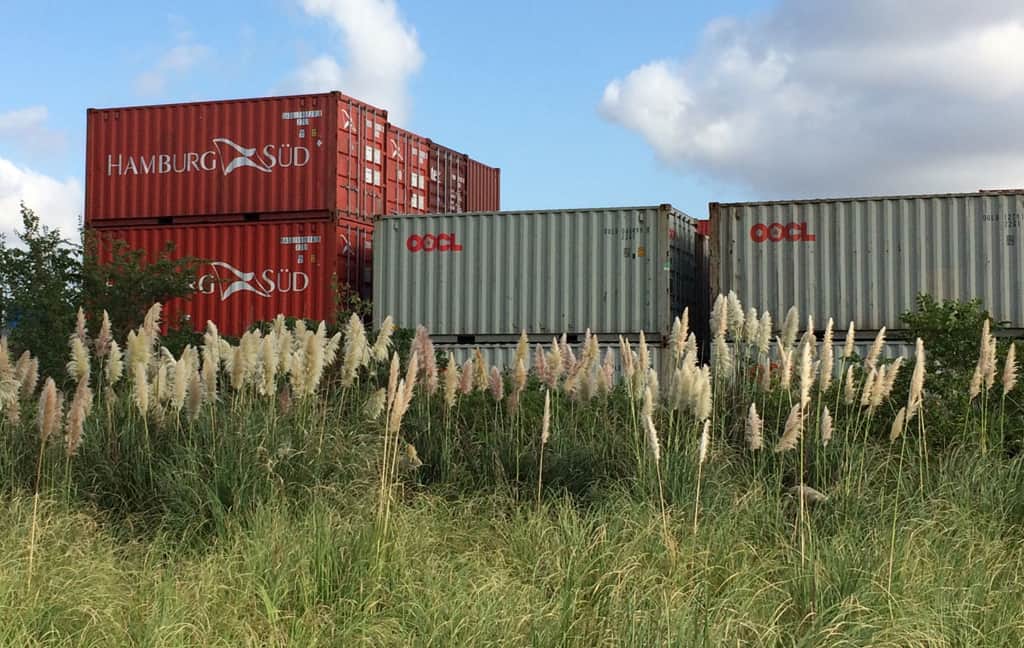 I wrote to the Inner West local council, which is responsible for ensuring compliance with weed laws under the new Biosecurity Act. After chasing up the complaint, and more than three months later, I received a response.
I was told the land is 'not the responsibility' of the council since it was 'Airport Land'. They suggested the land may not even lie within council boundaries, even though it clearly does.
Admittedly, there would be difficulty dealing with pampas in this area, since the boundaries of Sydney City, Inner West and Bayside Council all meet where Canal Road crosses Alexandra Canal. But that's no excuse for inaction.
Caught in the act
All this took place four years ago, in 2017. I had thought NSW's new statewide Biosecurity Act, rolled out earlier that previous year, would give local councils stronger incentives to act on such flagrant examples of irresponsible property owners harbouring environmentally dangerous weeds.
I was wrong. The new act is unenforceable until compliance officers undergo training and have been authorised to use the legislation. By the time I received a response to my complaint from Inner West Council they had no enforcement officers. As a result of questions in NSW Parliament I later established that a year after commencement of the Biosecurity Act, less than a fifth of Sydney councils had authorised officers.
It gets worse. The new biosecurity legislation replaced specified controls under the old Noxious Weeds Act with a 'general biosecurity duty'. This places a broad obligation on everybody to avoid creating biosecurity risks, such as harbouring invasive weeds.
The general biosecurity duty that applies to this land specifies that the land manager's weed obligations are spelt out in the Greater Sydney strategic weed plan. Under the Noxious Weed Act, there was a requirement to eradicate pampas grass from private properties. Under the new rules, the weed plan states that the following actions will demonstrate compliance under the general biosecurity duty:
Land managers mitigate the risk of the plant being introduced to their land.
Land managers prevent spread from their land where feasible.
Land managers reduce the impact on priority assets.
The plant or parts of the plant are not traded, carried, grown or released into the environment.
There are similar obligations for many other wind-borne invasive weeds. To "prevent spread where feasible" is an ambiguous and ineffective weed control measure, especially for new and emerging weeds like pampas grass. The only way to stop a weedy plant with easily dispersed seeds from leaving all but the very large blocks is to completely eradicate it from each block of land. No neighbour should be subjected to easily spread weeds.
Over the subsequent years I regularly passed the site and occasionally stopped to check progress. Six months after my complaint the seed heads of the pampas grass growing on a small strip of council land on Canal Road bordering the block had been removed, but the plants remained in place and flowered not long afterwards. About a year later all the seed heads of the plants on the block were removed, but they also flowered again.
Four years later
It is now 2021 and I had not been near Sydney airport for more than a year. I wanted to see if anything had changed.
I was disappointed.
The Canal Road block was still covered with thousands of pampas grass. There may have been less than before, but they were still there and flowering. The neighbouring container terminal was still a hive of activity. Pampas grass was prolific along the banks of Alexandra Canal and in the distance further downstream on industrial land towards Tempe Recreation Park I saw vast fields of it on nearby low hills. The pampas grass infestation was growing.
In those intervening years pampas grass has also spread in many other parts of Sydney and beyond.
Where ten-years ago I had previously been lucky to spot from the train window one or two pampas plants on a journey along most of Sydney's major railway routes, I now see pampas plants every few kilometres.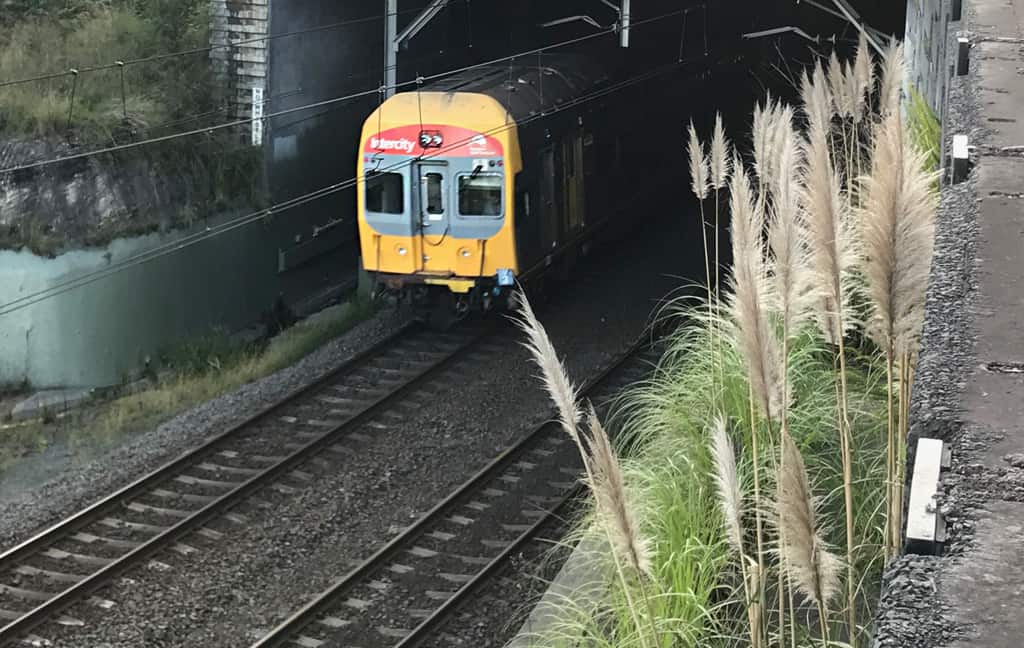 On the western side of the Blue Mountains near Lithgow, where the Greater Sydney weed plan doesn't apply, pampas grass is spreading from a sawmill, rock quarries, a coal mine and railway land near Clarence and Lithgow into federally-listed endangered upland swamps and the Blue Mountains World Heritage-listed national park.
You can measure the success of weed management by spotting whether the weed is present or not. While there may be a lag of a year or two, a weed outbreak tells you something is wrong.
Weed management is not working in NSW and needs a rethink. Pampas grass is the standout example, but there are many others.
We'd love you to tell us your weed management experiences, especially since weeds have had a big leg-up in eastern Australia with mild wet weather over the past year.
Email us your weed management experience via our Contact page.