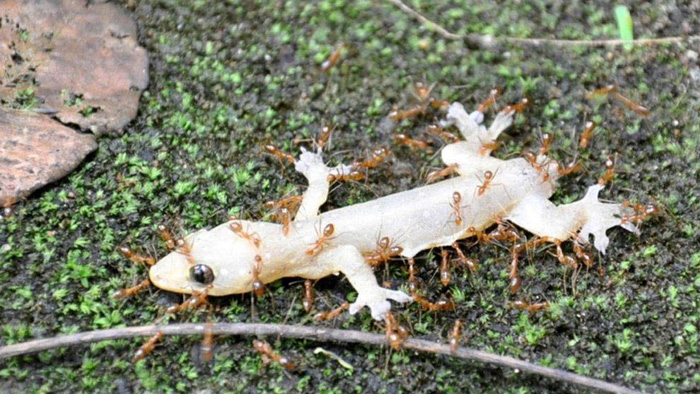 Four North Queensland champions have been acknowledged with Froggatt Awards for their exceptional efforts in raising awareness about the threat of yellow crazy ants and helping to eradicate the ant from the Wet Tropics World Heritage Area.
The awards were presented to Lucy Karger from the Wet Tropics Management Authority, Edmonton cane farmer Frank Teodo, James Cook University's Dr Lori Lach and Cairns Post journalist Daniel Bateman by Invasive Species Council CEO Andrew Cox in Cairns today.
"Without the tireless efforts of Lucy, Frank, Lori and Daniel, few people would appreciate the danger posed by this highly invasive and environmentally destructive ant from South-East Asia," Mr Cox said.
"Yellow crazy ants have a devastating impact on wildlife, killing and consuming small animals, frogs, lizards and even bird chicks in areas where the ants have become established."
One of the award winners, Lucy Karger from the Wet Tropics Management Authority, has coordinated baiting for yellow crazy ants since 2013 across 800 hectares around Edmonton, south of Cairns, and 30 hectares at Russett Park near Kuranda.
The $2 million project was funded by a grant from the Australian Government's Department of Environment.
"Through baiting we have reduced the number of ants overall and eliminated yellow crazy ants from some of the smaller sites. Ongoing monitoring has taught us a lot about the best timing and methods to use in controlling yellow crazy ants in our region," Ms Karger said today.
"We currently have funding to continue baiting until the end of 2016. If we do not secure ongoing funding we will lose the gains we have made and yellow crazy ants will expand into new areas with devastating impacts.
"We have had positive discussions with all levels of government, but are concerned that no concrete commitments have been made to date.
"Eliminating these invasive ants from the region is vitally important if we want to protect the unique character and biodiversity of the Wet Tropics World Heritage Area and surrounding land."
The Froggatt Awards are given to those who have made a major contribution to protecting Australia's native plants and animals, ecosystems and people from dangerous new invasive species.
The awards are named in honour of Australian entomologist Walter Froggatt, who, when the cane toad was released into Australia in the 1930s to control beetle infestations in the sugar cane industry, was a lone voice, lobbying the federal government to exercise caution.
The Invasive Species Council is a not-for-profit organisation that campaigns for stronger laws, policies and programs to keep the Australian environment safe from new weeds, feral animals and other invaders.
Andrew Cox and Lucy Karger will be available for interview in Cairns on Friday 29 January by appointment.
Contact
Andrew Cox on 0438 588 040.
More info