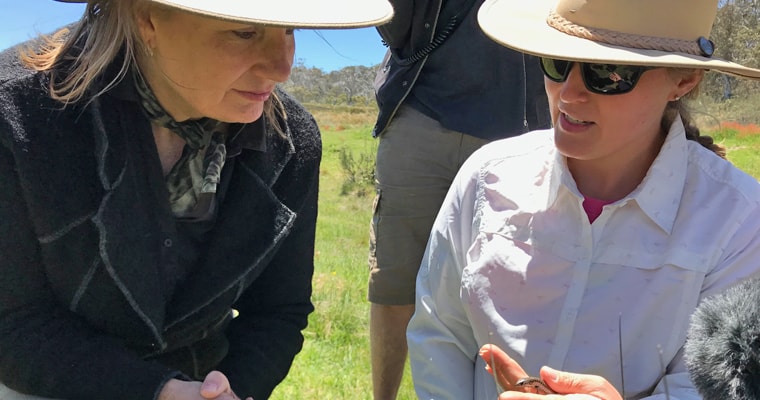 The Invasive Species Council welcomed today's announcement by federal environment minister Sussan Ley of $8 million for bushfire recovery in the Australian Alps and her concern about growing horse numbers in Kosciuszko National Park.
"Federal environment minister Sussan Ley is showing strong leadership in recognising the threat of hard-hooved animals to the Australian Alps and calling for a solution that urgently addresses the area's growing feral horse problem," Invasive Species Council CEO Andrew Cox said.
"We're pleased Australia's federal environment minister saw for herself the bushfire damage and in particular the damage being inflicted on Kosciuszko by feral horses."
On Friday federal environment minister Sussan Ley joined a 4-hour inspection of Kosciuszko National Park to see for herself the areas damaged by feral horses and those impacted by the bushfires. The trip was organised by Reclaim Kosci and the Invasive Species Council.
"The $8 million allocated to tackle pests and weeds in the Australian Alps will speed the recovery and re-population of wildlife and aid the restoration of fragile ecosystems and water catchments," Mr Cox said.
"During our inspection of Kosciuszko the minister was particularly concerned about the impact of hard-hooved animals.
"Native animals desperately need all the help they can get and we need to take advantage of the short window of opportunity to carry out pest control in now open country."
About 32% of Kosciuszko National Park was burnt by the catastrophic summer 2019-20 bushfires. The feral horse and deer population was little affected by the fires, within weeks of the fires being extinguished hundreds of horses were seen grazing on regrowth in the fire grounds.
Scientists took the minister on an inspection of sphagnum moss habitat of the critically endangered northern corroboree frog, to see endangered alpine she-oak skinks and burrows of the vulnerable broad-toothed rat.
Richard Swain, Reclaim Kosci campaigner and Invasive Species Council Indigenous ambassador, accompanied the minister on the inspection and thanked her for coming to see the damage.
"While people have been arguing over this issue, native plants and animals have been declining every day," he said.
"People who take the time to visit Kosciuszko National Park always come away shocked by the reality of what a disaster this is for our country."