Shocking images emerge – horses killed by NSW drought littering Snowy River
6 October 2018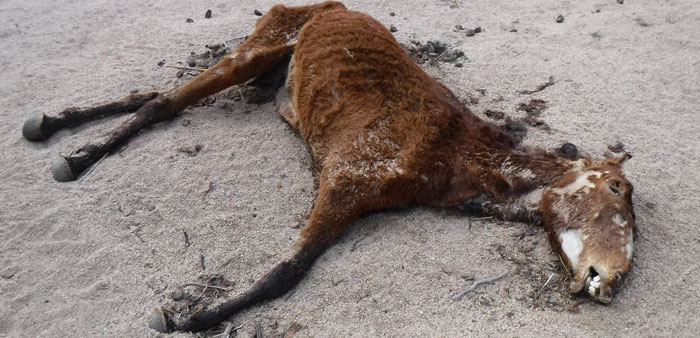 Shocking images have emerged of dead horses littering the Snowy River in Kosciuszko National Park. The horses were clearly malnourished and starving as a result of the drought before they died.
"The drought is killing these horses through starvation and malnutrition, leaving their bodies to rot on the banks of the Snowy River," feral horse campaigner with the Invasive Species Council and river guide Richard Swain said today.
Kayakers embarking on a multi-day ecotour down the lower Snowy River earlier this week were confronted by the bodies of dead horses littering the river on the first day of the trip.
"People who come to Kosciuszko National Park to immerse themselves in one of Australia's most stunning landscapes are being confronted by horrific scenes," Mr Swain said.
In June this year the NSW Government passed a Bill that protects feral horses in Kosciuszko National Park.
"When the country is not in drought feral horse numbers in Kosciuszko National Park grow at an average of 6-17 per cent every year," Mr Swain said.
"We're now seeing the implications of protecting feral horses in the park. The animals are dying agonising deaths in the southern end of Kosciuszko and their dead bodies are polluting the Snowy River.
"Feral horses are also competing for scarce feed with our wildlife including wallabies, kangaroos and wombats, which are also suffering from the drought.
"The decision to protect feral horses in Kosciuszko National Park must be overturned for the welfare of not just the horses, but also the health of the park, its wildlife and waterways."
The Invasive Species Council is calling on the NSW Government to repeal the Kosciuszko Wild Horse Heritage Act 2018 and to put in place humane feral horse control methods.
"Kosciuszko National Park was created to protect its incredible natural values. It's a park, not a paddock, and must be managed as one of Australia's most precious natural wonders."
More info
• Feral horses in Australia >>