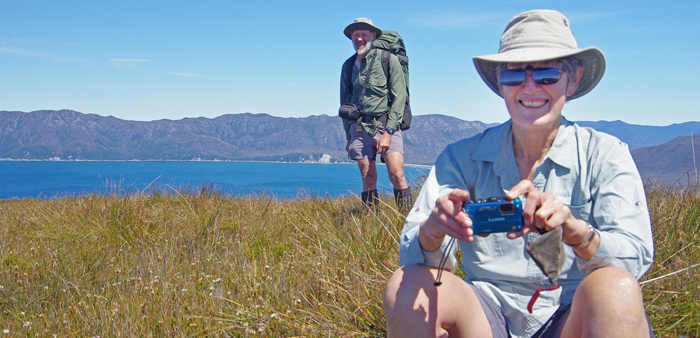 Bushwalkers who have scoured Tasmania's wild and beautiful southwest coast as part of a ten-year, remote area weeding program have been awarded a national gong for their tireless efforts.
"Ridding southwest Tasmania's coast of the invasive weed sea spurge would have come at enormous cost to government," Invasive Species Council CEO Andrew Cox said today as he announced this year's Froggatt Awards.
"These remote area volunteer teams are dropped in by chopper, boat or fixed-wing aircraft, and can spend anywhere from eight days to three weeks scouring the Tasmanian Wilderness World Heritage Area coastline for sea spurge and marram grass.
"They bring their own gear, rely on food drops and they do it for free because like so many Australians they have fallen in love with Tasmania's wild places."
The Froggatt Awards are named in honour of Australian entomologist Walter Froggatt, a lone voice in the 1930s warning of the dangers of releasing the cane toad into Australia as a control agent for beetle infestations in the sugar cane industry.
The Sea Spurge Remote Area Teams received their Froggatt in the control and eradication category for ten years' successful work eradicating sea spurge from Tasmania's rugged southwest coastline.
"Over the past ten years more than 150 remote area volunteers have removed 14.2 million sea spurge plants from 600km of coastline, that's one fifth of Tasmania's coast," Mr Cox said.
"Now, 99.5% of the treated area is sea spurge free. Areas have also been treated for marram grass and two of the region's only blackberry infestations."
The combined volunteer labour took 6000 hours and has been valued at over $1.4 million.
SPRATS project manager Jon Marsden-Smedley said protecting the world's few remaining wilderness areas may be the most valuable legacy we can leave future generations.
"The weeds we target are recognised threats to the Tasmanian Wilderness World Heritage Area, they can push out native plants and adversely impact herbfields, marsupial feeding grounds and shorebird habitat vital to threatened species like the hooded plover."
Volunteers use a variety of methods to remove the weeds, including hand weeding, ground and aerial spraying. They are a WildCare group working in partnership with the Tasmanian Parks and Wildlife Service.
First discovered in northeast Tasmania in 1980, sea spurge also turned up on the island's more rugged northwest and west coasts. The weed produces buoyant seeds that can survive floating on ocean currents for several years – once the seeds reach landfall they can quickly colonise remote and pristine beaches.
About the Froggatt Awards
Invasive species have become one of the largest threats facing Australia's natural environment, but their continued arrival and spread is all too often neglected as a conservation issue.
The Froggatt Awards are given to those who have made a major contribution to protecting Australia's native plants and animals, ecosystems and people from dangerous new invasive species.
For comment
Invasive Species Council: CEO Andrew Cox 0438 588 040.
SPRATS: Jon Marsden-Smedley 0456 992 201.
More information