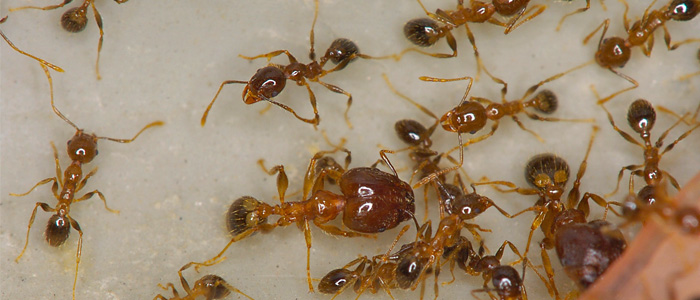 Yellow crazy ants and red imported fire ants are just two types of dangerous new invasive ants now found in Australia.
Unlike our native ants they are not a natural part of the Australian landscape, and can threaten our wildlife, ecosystems, agriculture and even people through their aggressive behaviour.
Most new infestations of invasive ants in Australia have been uncovered by ordinary people who saw something and reported it.
Uncovering new infestations before they spread is vital to keeping Australia safe from these dangerous ant species, and dramatically minimises the cost of eradication programs.
Due to their small size these ants can be hard to identify. We have compiled these identification resources to help you.
If you think you have seen any of these high risk ants, or if you are in doubt, please report what you have found to the biosecurity contacts for your state or territory listed below.
Identification guides
Reporting hotlines
National Exotic Plant Pest Hotline: 1800 084 881
This number will connect you to the correct biosecurity agency in the state you are calling from. It can be used to report exotic plant diseases and insects. Individual state agency contacts are also listed below.
Queensland
Phone 1800 084 881 – exotic plant pest hotline (also for reporting insects)
or 13 25 23 (Queensland callers only) or +61 7 3404 6999 – option 2
Email callweb@daf.qld.gov.au
New South Wales
Phone 1800 084 881 – exotic plant pest hotline (also for reporting insects)
Email biosecurity@dpi.nsw.gov.au
Northern Territory
Phone 1800 084 881 – exotic plant pest hotline (also for reporting insects)
or 08 8999 2258 – NT Government entomologist
Email statecoordinator.bpi@nt.gov.au
Western Australia
Phone 1800 084 881 – exotic plant pest hotline (also for reporting insects)
Email info@agric.wa.gov.au or mypestguide@agric.wa.gov.au
Australian Capital Territory
Phone 1800 084 881 – exotic plant pest hotline (also for reporting insects)
or 13 22 81 – Territory and Municipal Services
Victoria
Phone 1800 084 881 – exotic plant pest hotline (also for reporting insects)
or 136 186 – DELWP customer service
Email customer.service@delwp.vic.gov.au
Tasmania
Phone 1800 084 881 – exotic plant pest hotline (also for reporting insects)
or 1300 368 688 – invasive species hotline, 03 6165 3777 – DPIPWE customer service
Email Quarantine.Enquiries@dpipwe.tas.gov.au