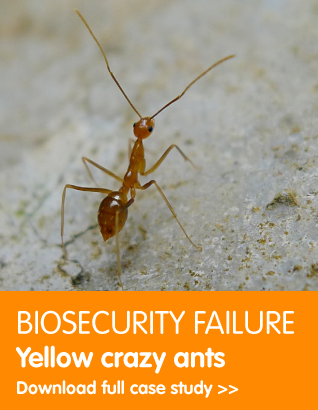 Australia has failed both to prevent new incursions of yellow crazy ants and to eradicate existing incursions.
Since 2000, more than two new outbreaks a year have been detected (over 30 in Queensland). There may be many more outbreaks due to a lack of surveillance.
Yellow crazy ants were intercepted in Australian ports at least 161 times from 1988 to 2011 (on average 7 times a year) and at least 40 times from 2008 to 2013 (on average 8 times a year).
Failures over many years to fix quarantine holes have led to multiple incursions of yellow crazy ants into Queensland. We have also failed to accord this very high environmental threat the priority it warrants, with a lacklustre and abandoned effort to eradicate them in Queensland, and limited implementation of a threat abatement plan.
It is important to prevent further incursions as new genetic material (as a general principle) can greatly exacerbate invasive impacts by enhancing adaptive evolution of invasive species. Given their potentially devastating impacts on biodiversity, there should also be a thorough national assessment of the potential for eradication in the various outbreak sites.
However, this requires that the gaps in quarantine allowing new incursions be identified and addressed.
More case studies
This is just one of 12 case studies demonstrating how weaknesses in Australia's biosecurity systems have allowed the entry and establishment of new species likely to cause environmental harm.
All 12 case studies were submitted to the Australian Senate inquiry into how well we are prepared to prevent the entry and establishment of invasive species likely to harm our natural environment.
Image: John Tann, Creative Commons Licence, flickr