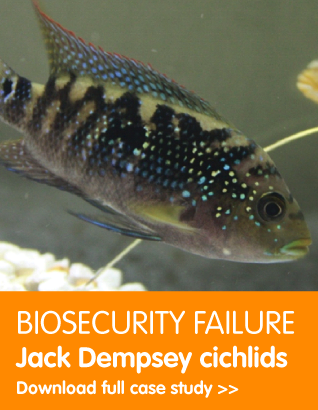 The Jack Dempsey cichlid is an aggressive aquarium fish that was illegally released into a pool in NSW.
An attempt to eradicate it failed (or the cichlids were re-introduced). They are one of about 30 aquarium fish species that have established in Australian waterways.
They highlight the importance of preventing new incursions because it is extremely difficult or impossible to eradicate feral fish populations.
More than 10 million fish are imported into Australia each year, and more than 450 species are permitted for import.
More case studies
This is just one of 12 case studies demonstrating how weaknesses in Australia's biosecurity systems have allowed the entry and establishment of new species likely to cause environmental harm.
All 12 case studies were submitted to the Australian Senate inquiry into how well we are prepared to prevent the entry and establishment of invasive species likely to harm our natural environment.
Image: courtesy Gregory Heinrichs, Creative Commons Licence