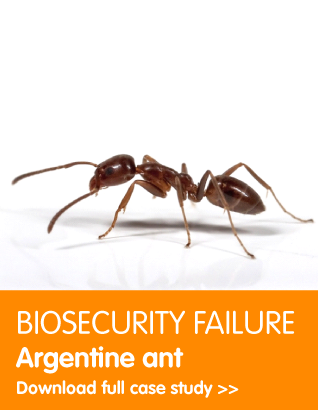 The incursion of the Argentine ant on Norfolk Island highlights the need for stringent quarantine on islands.
The five years it took to identify the Argentine ant exemplifies the limited resources available for surveillance and response on islands. Substantial effort and resources have since been invested in surveillance and control of the ant on Norfolk Island, and there is good potential for eradication based on a five year strategy.
But Australia could lose this potential unless sufficient funding is provided soon. Most ant eradication programs are threatened by insufficient or inconsistent funding.
More case studies
This is just one of 12 case studies demonstrating how weaknesses in Australia's biosecurity systems have allowed the entry and establishment of new species likely to cause environmental harm.
All 12 case studies were submitted to the Australian Senate inquiry into how well we are prepared to prevent the entry and establishment of invasive species likely to harm our natural environment.
Image: Argentine ant, Pedro Moura Pinheiro (Creative Commons Licence)