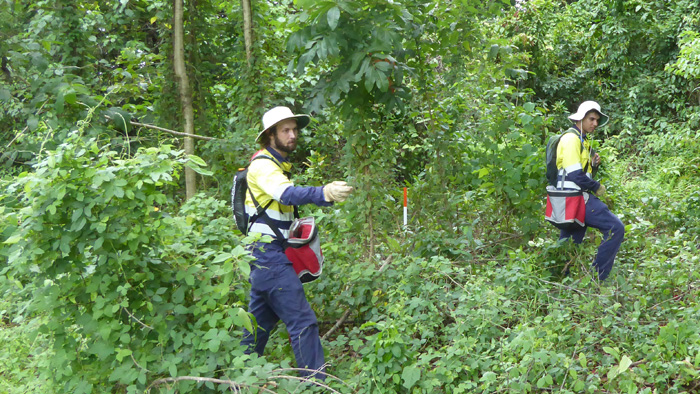 There is new hope the Queensland and federal governments will come on board to tackle yellow crazy ants threatening to destroy Australia's wet tropics rainforests.
The Queensland Government this week admitted it was wrong to walk away from the eradication of the highly invasive yellow crazy ants and is now calling on the Federal Government to back eradication of the ants from the wet tropics world heritage area.
In an article published in today's Cairns Post, based on a letter from Queensland Treasurer Curtis Pitt to Leichhardt federal member, Warren Entsch, the treasurer asked for federal government support for the eradication of yellow crazy ants.
"This is a significant breakthrough," Invasive Species Council CEO Andrew Cox said today.
"It was incredibly short-sighted when the eradication of yellow crazy ants was halted by the Newman Government in 2012 without a credible analysis of the consequences."
Fortunately, eradication efforts to tackle the Cairns outbreak of yellow crazy ants were re-started in late 2013 after the Wet Tropics Management Authority received a $2 million federal government environmental grant. These funds will run out this year, leaving the yellow crazy ants to spread again and threaten the world heritage listed wet tropics rainforests if new funding is not committed.
"The Invasive Species Council agrees with the Queensland Palaszczuk Government that abandoning the yellow crazy ant eradication was a flawed decision.
"We warmly welcome the Queensland treasurer's efforts to obtain federal government funding for the ant's eradication.
"This shift in the Queensland Government's position puts pressure on both the Queensland and federal governments to properly fund the eradication of yellow crazy ants.
"Eradicating yellow crazy ants is the right thing to do for Queensland's wet tropics rainforests, for Cairns and Kuranda residents, for cane farmers and for the tourist industry."
The Queensland treasurer's electorate of Mulgrave extends south from Cairns and contains the worst yellow crazy ant outbreak at Edmonton.
"Yellow crazy ants have a devastating impact on wildlife, killing and consuming small animals, frogs, lizards and even bird chicks in areas where the ants have become established," Mr Cox said.
Contact
Andrew Cox on 0438 588 040