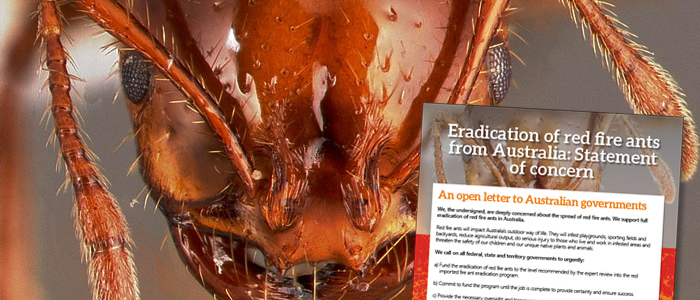 An alliance of farmers, local government and environment groups from across Australia have called on every state, territory and the federal government to fully fund eradication of deadly red fire ants in this year's budgets.
"If Australia fails to eradicate fire ants almost no corner of the continent will be safe from these menacing predators," Invasive Species Council CEO Andrew Cox said today.
"Fire ants can rapidly expand in numbers and have the potential to invade more than 99% of the nation. Once out of control fire ants would threaten every aspect of Australian life, including our farming communities, schools, sports grounds, tourism industries and unique natural heritage.
"That is why farmers, local government, community clubs and environment groups have signed an open letter of concern to Australia's governments ahead of next week's federal budget."
Signatories include the National Farmers' Federation, AgForce, Local Government NSW, the Queensland Regional NRM Groups' Collective and the Nature Conservation Council of NSW.
Fire ant eradication will cost approximately $38 million every year for the next decade, according to a secret government report released by the Australian Senate in December.
"Victoria has already committed to fund its share of the eradication project when it handed down its state budget on Tuesday – but fire ant eradication requires a national effort, and that means every state, territory and the federal government has to do its bit," Mr Cox said.
If not eradicated fire ants are predicted to:
Add $114 million in costs to our health system annually through 140,000 extra medical consultations and the treatment of an estimated 3000 people suffering anaphylactic shock as the result of fire ant stings.
Slam the beef and cattle industry with an extra $308 million a year in production losses and control costs.
Take over parks, playing fields and sporting venues and increase maintenance costs.
Decimate Australian wildlife, with predicted population declines of 45% for birds, 38% for mammals, 69% for reptiles and 95% for amphibians in areas with dense fire ant infestations.
Jack up the cost of maintaining Australia's road networks by millions of dollars in damage works every year.
Inflate insurance and compliance costs for construction, housing, sporting and recreational venues.
What the signatories say about fire ants:
"This aggressive stinging ant is a major threat to the survival of young calves and cattle in southeast Queensland. Human lifestyles and farming procedures would change forever if red imported fire ants are not eradicated."
Charles Burke, CEO AgForce
"We are concerned by the potential spread of red fire ants and the financial costs to affected councils and the social and environmental impacts on their communities."
Cr Keith Rhoades, President Local Government NSW
Organisations from across Australia can add their voices to the Statement of concern by visiting our website.
More info