The Western Riverina Pest Project has been awarded a national Froggatt Award for undertaking the largest feral pig control program in Australia.
The annual awards, named in honour of the Australian entomologist who was a lone voice lobbying against the deliberate release of cane toads in the 1930s, recognise outstanding achievements in Australia's fight against environmental weeds, diseases and pest animals.
'The project is being recognised in the award's control and eradication category for its innovative use of emerging technology across 1.4 million hectares of privately- and publicly-owned lands,' said Invasive Species Council CEO, Andrew Cox.
The Western Riverina Project began in 2016 with focus on feral pig control along the Murrumbidgee and Lachlan Rivers in NSW.
'It is the largest feral pig control program in Australia,' said Suzanne Holbery, a biosecurity officer in the Riverina region who nominated the project.
'Landholders in the region reported feral pig numbers rising at an alarming rate, resulting in an increase in stock losses, particularly newborn lambs. The NSW Farmers branch contacted Local Land Services from both Riverina and Western regions to coordinate a program and implement a targeted strategic plan.'
Representatives from Riverina, Western and Murray Local Land Services, NSW National Parks and Wildlife Service and the NSW Department of Primary Industries form the project's governing steering committee.
'This nil-tenure approach over a vast area, involving 187 holdings and multiple government departments, should serve as an example of the benefits that can be achieved when private and public land managers work together to control pest species,' said Mr Cox.
'The project area covers a number of fragile wetland ecosystems, home to numerous threatened species,' said Ms Holbery.
'We used infra-red thermal cameras mounted to a helicopter to gauge how the feral pig population was tracking during annual surveys.'
'Thanks to these surveys, we can confirm that we have dramatically reduced the abundance of feral pigs and curbed their rate of reproduction.
'Between June 2016 and June 2021, 43,608 feral pigs were removed from the program area and the population density was reduced from a peak of 11.2 pigs per square kilometer in 2017 down to 0.88 pigs in 2020.'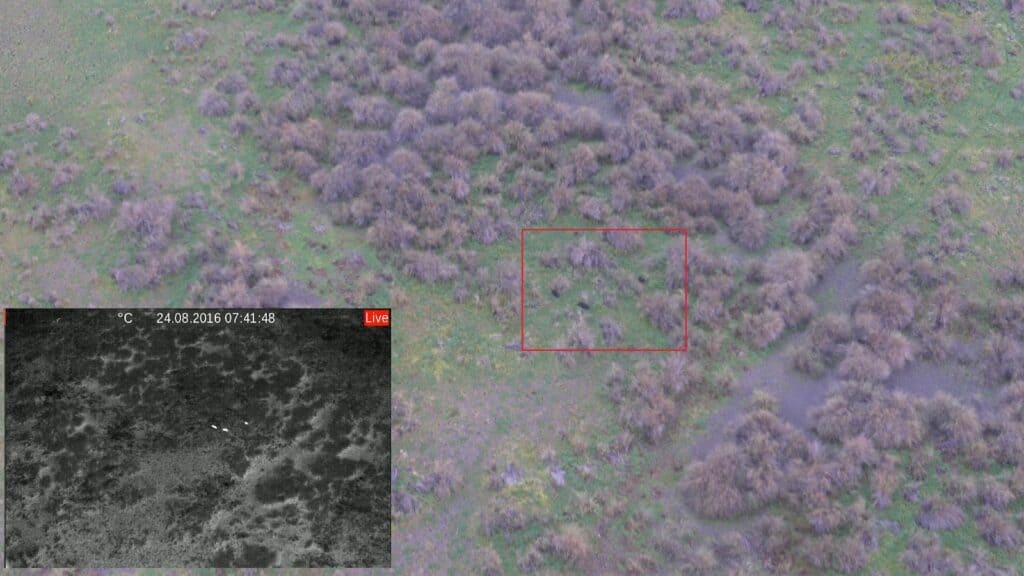 The project integrated a suite of other innovative technology into their feral pig control, including remote camera monitoring, sampling feral pig DNA and blood to minimise disease outbreaks and livestock exclusion bait containment yards that allow pigs access without harming cattle or merino sheep livestock.
Results from the DNA sampling, conducted through the CSIRO, have been incorporated into Australia's African swine fever preparedness strategy.
'Thermal camera technology was also trialled during aerial shooting programs to assist shooters in locating feral animals hidden from our standard view,' said Ms Holbery.
GPS tracking collars were fitted to 33 feral pigs to measure their dispersal in response to aerial shooting.
'There are also feral deer and goats in the region which are targeted during aerial shooting programs on consenting properties. It is the program's intention to increase ground-based control of these pest species as well as reinvigorate coordinated fox baiting groups,' said Ms Holbery.
'The removal of these feral animals from West Riverina protects livestock from predation and disease, and improves the health of the many wetlands and native species that exist across the landscape,' said Ms Holbery.
'The project demonstrates exemplary practice of using multiple tools to achieve successful and collaborative invasive species management and the protection of nationally significant wetlands in the West Riverina region,' said Mr Cox.