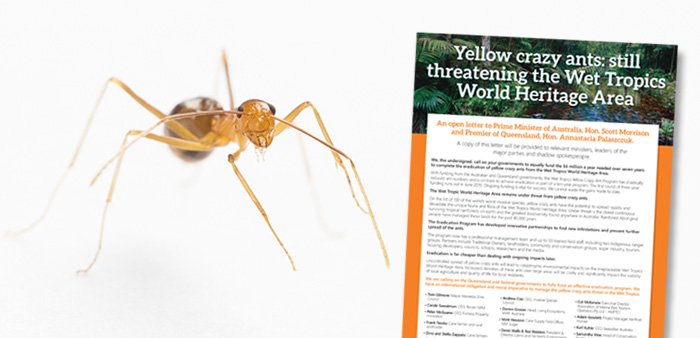 A powerful coalition of Queensland industry heavy hitters, farmers, councils and environment groups have made a desperate plea to Prime Minister Scott Morrison and Premier Annastacia Palaszczuk not to abandon the Wet Tropics yellow crazy ant eradication program.
They will be making a joint statement today at 1pm:
Date and time: Wednesday 13 February 2019 at 1pm.
Location: The end of Wiseman Road, Wiseman Road Reserve, Edmonton – about 25 minutes south of Cairns.
Funding from the Australian and Queensland governments has allowed the Wet Tropics Management Authority to drastically reduce yellow crazy ant numbers in the Wet Tropics, but a commitment of another $6 million a year over seven years is needed to finish the job.
Yellow crazy ants are on the list of 100 of the world's worst invasive species.
"Yellow crazy ants must be stopped from spreading throughout the Wet Tropics rainforests and the forests, woodlands and grasslands of northern and eastern Australia," Invasive Species Council CEO Andrew Cox said today in an open letter signed by industry and community leaders.
"We have too much to lose, including ground-nesting birds, mammals, reptiles, frogs and insects, along with impacts on tourism, residential areas, cropping industries and beyond."
The open letter calls on the Prime Minister and the Queensland Premier to jointly fund the program before momentum and good staff are lost over the coming months.
"Seven more years of funding from 1 July 2019 is needed to finish the job or yellow crazy ants will return to former levels and have a catastrophic impact on the region," Mr Cox said.
An independent review by Melbourne University found the invasive ants are still eradicable and their preliminary analysis shows that without the program the socio-economic costs alone would exceed $700 million over the next seven years.
Project manager with Kenfrost Homes, Adam Gowlett, warned the Cairns housing market faces devastating impacts if the yellow crazy ant eradication program is not fully funded.
"If there was no eradication program yellow crazy ants would have a devastating impact on housing development in Cairns," he said. "People simply wouldn't want to move their families into an area where there is the risk of yellow crazy ants."
Cane farmer and long-term yellow crazy ant campaigner Frank Teodo praised the good work so far.
"Recent results from the current Yellow Crazy Ant Eradication Program have been spectacular. The methodology has been fine-tuned and the highly trained staff are having unparalleled success."
Karl Kuhle, Seawalker Australia CEO holds fears for future environmental impacts.
"If the ants are uncontrolled at Edmonton, one solid flood through the streams that feed Wrights Creek will float yellow crazy ants right down to the Reef Fleet Terminal, Esplanade Park and Lagoon Swimming Pool, onto Admiralty Island and across to East Trinity. Who will stop them then?"
Roz Walden Director, Cairns and Far North Environment Centre warned of ecological disaster if state and federal governments pulled the pin on the eradication program. "If we are to have any chance of saving the Wet Tropics from these highly invasive ants, we must do all we can now."
More info