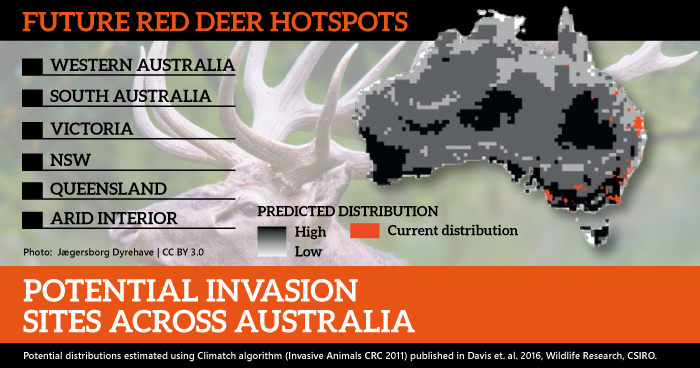 Video footage of a panicked, wild deer skittering dangerously across a Melbourne road is a clear sign the Victorian government urgently needs to tackle exploding numbers of the feral animals, state and national environment groups warned today.
"Feral deer are a menace to our environment, to farmers and even to the public when they create havoc on our roads," Invasive Species Council CEO Andrew Cox said today.
"In NSW's Illawarra region they caused nine fatalities in a seven year stretch and 100 collisions with trains. We don't want to see that happen here in Victoria.
"The video of a feral deer running down the middle of a major road is just a taste of what's in store if the Victorian government fails to clamp down on exploding numbers of feral deer on Melbourne's outskirts and across the state by urgently coming up with a containment and control plan for the pest animals."
Phil Ingamells from the Victorian National Parks Association said some estimates put the number of feral deer in Victoria at about one million and growing.
"Victoria has its fair share of feral animals but none are increasing more rapidly than deer," he said.
"They wallow in wetland areas, creating large mud pools at creek edges. They browse heavily on native plants and can ringbark trees by rubbing their antlers on them.
"The state's do-nothing approach must stop. Victoria needs a well-informed and resourced deer control and containment strategy that is based on the need to proactively protect vulnerable native ecosystems, farms and people's safety."
A recent Victorian parliamentary inquiry into the control of invasive animals on Crown land firmly recognised the need to control deer populations, saying professional pest control operators should be put to work, supported by urgent research efforts to develop new control options beyond ground shooting.
The Invasive Species Council says government responses to feral deer in Victoria have been distorted by the treatment of the animal as a game species for recreational hunters, instead of acknowledging their potentially serious environmental, agricultural and human costs.
Both organisations are calling on the Victorian government to urgently come up with a well‐funded, strategic control and containment plan with clear action to deal with new deer invasions in the state, especially the recent invasion of Sambar deer at Wilsons Promontory National Park.
Environmental impacts of deer
Trampling damage to stream-banks and wetlands.
Damage to trees, ferns and shrubs from chewing and rubbing of bark (ringbarking).
Browsing and damage to native plants and wildflowers leading to plant understorey loss, a reduction in plant biodiversity and the possibility of extinction of rare or threatened plants.
Competition with native herbivores like wombats and wallabies for food and habitat.
For comment
CEO Andrew Cox 0438 588 040.
Phil Ingamells, Victorian National Parks Association – 0427 705 133.
More information