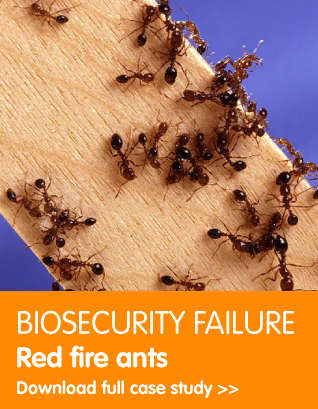 Of all the invasive species that should be kept out of Australia, red imported fire ants represent one of the most serious.
They are also one of the most costly, and any flaws in quarantine that result in new incursions put at risk the more than $300 million already spent trying to eradicate them.
There have been four red imported fire ant incursions detected since 2000. Despite being a high biosecurity priority, there have been two recent incursions in Gladstone, the latest detected in 2014.
The incursions highlight inadequate surveillance: the 2014 incursion was not detected for probably three years after arrival. It exemplifies a failure to close arrival pathways and vulnerabilities in decision-making processes that permit a minority of states/territories to veto a national eradication.
Failure on a project costing more than $300 million looms unless sufficient continued funding is forthcoming.
More case studies
This is just one of 12 case studies demonstrating how weaknesses in Australia's biosecurity systems have allowed the entry and establishment of new species likely to cause environmental harm.
All 12 case studies were submitted to the Australian Senate inquiry into how well we are prepared to prevent the entry and establishment of invasive species likely to harm our natural environment.
Image: Red Fire ants by Scott Bauer – http://commons.wikimedia.org/wiki/File:Fire_ants02.jpg