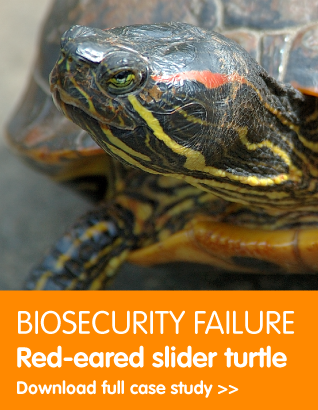 There is a high risk of continued illegal releases of the red-eared slider turtle into the Australian wild.
There have been varying degrees of action by state governments ranging from a concerted eradication effort by Queensland to very little action by NSW.
To prevent it establishing and spreading, Australia needs a national strategy and a concerted education and compliance program to stop illegal keeping.
More case studies
This is just one of 12 case studies demonstrating how weaknesses in Australia's biosecurity systems have allowed the entry and establishment of new species likely to cause environmental harm.
All 12 case studies were submitted to the Australian Senate inquiry into how well we are prepared to prevent the entry and establishment of invasive species likely to harm our natural environment.
Image: Photo taken by Benjamin Lewis and made available on flickr through a Creative Commons Licence. The original image has been altered.