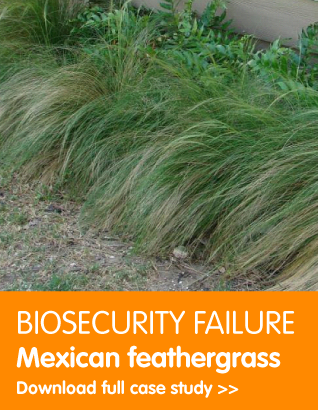 Multiple quarantine breaches of Mexican feathergrass in Australia show how easily a ban on the importation of a plant can be rendered useless by importers labelling seeds with erroneous or out-of-date names.
The demonstrated ease of buying this plant illegally from overseas through Ebay and other online traders exposes major enforcement weaknesses.
More case studies
This is just one of 12 case studies demonstrating how weaknesses in Australia's biosecurity systems have allowed the entry and establishment of new species likely to cause environmental harm.
All 12 case studies were submitted to the Australian Senate inquiry into how well we are prepared to prevent the entry and establishment of invasive species likely to harm our natural environment.
Image: Mexican Feathergrass.  C Lin, Creative Commons Licence