Revealed: Kosciuszko feral horse program in meltdown
15 January 2019
The removal of feral horses from Kosciuszko National Park has come to a complete standstill, new data has revealed, with populations of the destructive animals left uncontrolled. 
"No feral horses have been removed from the southern half of Kosciuszko National Park since April 2016, or the northern half since August 2017," Invasive Species Council CEO Andrew Cox said today.
"Figures provided by the NSW National Parks and Wildlife Service show all removal of feral horses from Kosciuszko National Park using any control method have come to a standstill. The Kosciuszko feral horse control program is in meltdown."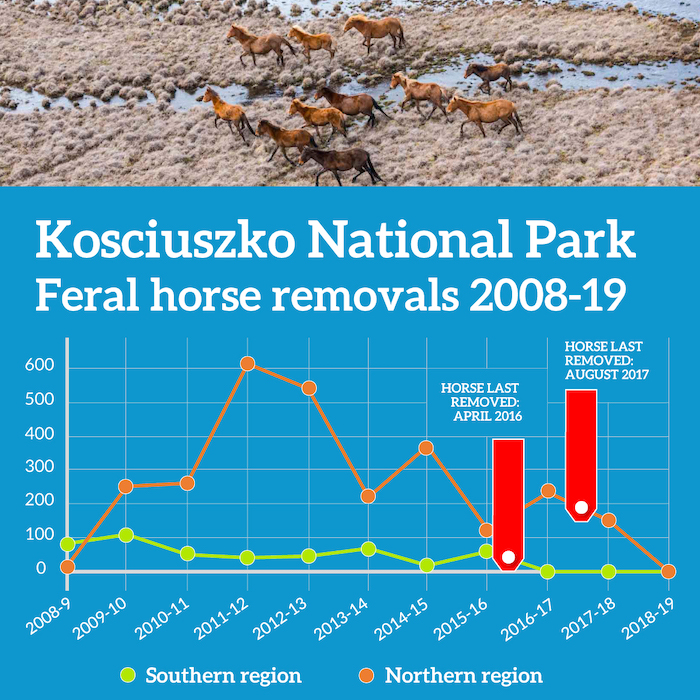 Since passing the Kosciuszko Wild Horse Heritage Act in June 2018 the NSW Government promised to continue with the existing feral horse control program in Kosciuszko National Park while a new horse plan was developed that relied on trapping and rehoming.
A recent letter from MLC Scott Farlow, Parliamentary Secretary to NSW Premier Gladys Berejiklian, said: 'Existing programs to reduce the impact of brumbies on the National Park's alpine environment will continue.' [1]
When debating the new law Deputy Premier John Barilaro told NSW Parliament: "Trapping and rehoming programs will continue—they will not end." [2]
"Even before feral horses were given protected status under the Kosciuszko Wild Horse Heritage Act in June 2018, NSW Environment Minister Gabrielle Upton had caved in to horse interests and Deputy Premier John Barilaro, who seems more interested in appeasing brumby lobbyists than protecting Kosciuszko National Park," Mr Cox said.
"Trapping and transporting horses to abattoirs, recognised by animal welfare experts as one of the most humane population control method available where transport is over short distances, has not been used to control feral horse numbers since October 2016, when trapping and rehoming became the sole control method.
"A reduction in horse numbers is looking ever more unlikely. Even to stabilise the feral horse population, many hundreds of horses will need to be removed each year. Historical horse breeding rates are believed to be between six and seventeen per cent a year. [3]
"Deputy Premier John Barilaro has ruled out RSPCA-endorsed humane lethal control options such as the trapping and on-site humane put down method used by Victoria, but now even the trapping and rehoming program is in limbo.
"The NSW Premier needs to intervene and put the environment minister back in charge of feral horse control in Kosciuszko National Park."
The Invasive Species Council is the lead organisation behind Reclaim Kosci, a campaign to protect Kosciuszko National Park from destructive feral horses by putting in place effective and humane feral horse control methods and repealing the Kosciuszko Wild Horse Heritage Act 2018.
Reclaim Kosci is supported by the National Parks Association of the ACT, National Parks Association of NSW, Colong Foundation for Wilderness and the Nature Conservation Council of NSW.
More info

______________
Footnotes
20 Dec 2018. Letter from Scott Farlow MLC to Don White, President of the Nature Conservation Council of NSW in response to a motion at the Annual Conference called for the repeal of the Kosciuszko Wild Horse Heritage Act.
2 June 2018. John Barilaro during second reading debate of the Kosciuszko Wild Horse Heritage Bill, NSW Parliament Hansard.
Cairns, S. (2014). Australian Alps National Parks 2014 survey of feral horses (Equus ferus caballus) in the Australian Alps. Australian Alps Liaison Committee. 23 pp.