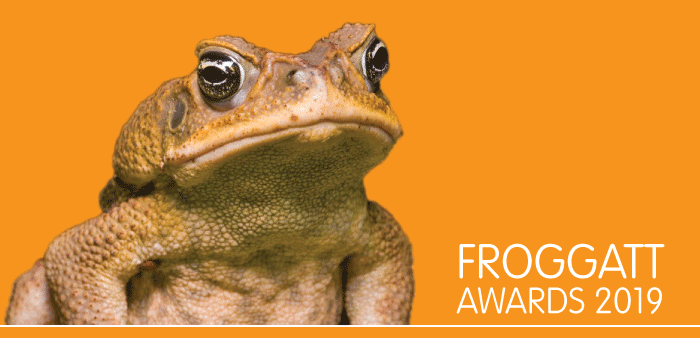 This year's national Froggatt Awards, which are named in honour of the man who warned Australia of the dangers of releasing the cane toad into the country, have been announced.
The awards go to a young man who saved the NSW town of Lismore from invasion by yellow crazy ants, a Queensland council that is enlisting local land owners in its fight against weeds and feral animals, and former federal agricultural minister David Littleproud for creating the country's first ever Office of Environmental Biosecurity.
"We all have a role to play in protecting Australia from dangerous new pest animals, insects, weeds and diseases, and fast and immediate action can be as simple as reporting a suspicious plant, animal or insect to the authorities," Invasive Species Council CEO Andrew Cox said.
Queensland's Southern Downs Regional Council won its Froggatt Award for its Invasive Pests Control Scheme, which recognises landholders for taking action on pests and weeds including African boxthorn, blackberry, cacti, rabbits and wild dogs. The scheme has led to unprecedented weed and animal control, gains in farm productivity and protection of the region's natural areas.
"The Southern Downs Regional Council is enlisting locals in the fight against the region's most damaging pests and weeds in a scheme that empowers people to be actively involved in biosecurity," Mr Cox said.
"This extraordinary scheme will save the region $96 million over the next 30 years in environmental and social costs and will have untold benefits for the local community."
Milo Yeigh was recognised for staving off an invasion of yellow crazy ants from the NSW town of Lismore.
Yellow crazy ants are listed among the world's worst invasive species. Milo's keen interest of ants led to his discovery of yellow crazy ants in Lismore's central district in May 2018.
He reported his find to the NSW Biosecurity Hotline and immediate surveillance and eradication of the infestation was carried out.
"Milo showed the importance of everyday people being part of Australia's efforts to stop new pest animals, weeds and insects getting new footholds in Australia," Mr Cox said.
Australia's former agricultural minister David Littleproud was honoured with a Froggatt Award for creating the Office of Environmental Biosecurity and appointing the country's first ever Chief Environmental Biosecurity Officer, Ian Thompson.
"In its first year, the office has made significant progress on defining the pests and diseases we should be worried about, led responses to new pests and diseases entering the country, built stronger relationships with the community and provided a leadership role on environmental biosecurity at the federal level," Mr Cox said.
"Improving environment biosecurity will take time and further resources given the historical origins of Australia's modern biosecurity system founded on agricultural risks.
"The award acknowledges David Littleproud's leadership in implementing a major structural change to the federal biosecurity system to better address the risks of pests, weeds and diseases that could harm the natural environment."
About the Froggatt Awards
Invasive species have become one of the biggest threats facing Australia's natural environment, but their continued arrival and spread is all too often neglected as a conservation issue.
The Froggatt Awards are given out by the Invasive Species Council every year and are named in honour of Australian entomologist Walter Froggatt, a lone voice in the 1930s warning of the dangers of releasing the cane toad into Australia to control beetle infestations in sugar cane.
The awards are given to those who have made a major contribution to protecting Australia's native plants and animals, ecosystems and people from dangerous new invasive species.
Nominations are now open for the 2020 Froggatt Awards. Visit our Froggatt Awards page for more details.