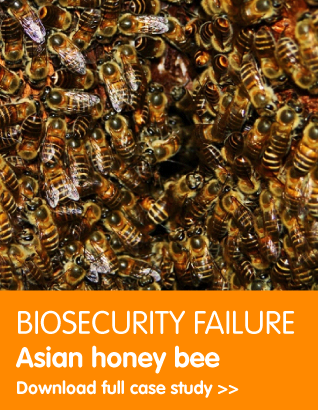 This incursion of the Asian honey bee into Australia was subject to a failed eradication program, regarded by many as prematurely abandoned because some states did not want to provide financial support.
A senate inquiry (by the Rural Affairs and Transport Reference Committee in 2011), triggered by concerns about the impacts on commercial beekeepers and farmers that depend on managed honey bees for pollination, concluded that the response to the Asian honey bee was flawed in several respects, including that the decision to abandon the eradication effort was not well justified and failed to apply the precautionary principle.
The committee also criticised the risk assessment for Asian honey bees used to justify the initial eradication effort as having failed to assess their potential impacts on biodiversity.
More case studies
This is just one of 12 case studies demonstrating how weaknesses in Australia's biosecurity systems have allowed the entry and establishment of new species likely to cause environmental harm.
All 12 case studies were submitted to the Australian Senate inquiry into how well we are prepared to prevent the entry and establishment of invasive species likely to harm our natural environment.
Image: Asian honey bees, Muzina Shanghai-Creative Commons Licence