Weedy pasture plants for salinity control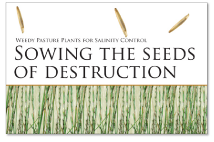 The Invasive Species Council has released a report detailing the environmental risks posed by weedy pasture plants being used for salinity control in southern Australia.
It also warns that one of those invasive pasture plants, Tall Wheat Grass (Lophopyrum ponticum), could become one of Victoria's worst weeds and has the potential to invade more than half the state.
The report, Sowing the Seeds of Destruction, was commissioned by the Invasive Species Council and the Wilderness Society to convince policy-makers of the need to address weed threats posed by salinity mitigation programs.
The report documents the weed threat of many other exotic plants promoted or proposed for salinity control, and highlights the fact that existing weed problems could be exacerbated by the release of new breeds of pasture plants bred for greater tolerance of salinity and drought.
It points out that government promotion of weeds as salinity solutions is symptomatic of law and policy failings on weeds, identified in the report, and concludes with 14 recommendations for reform.