Lord Howe Island – protecting paradise travel offer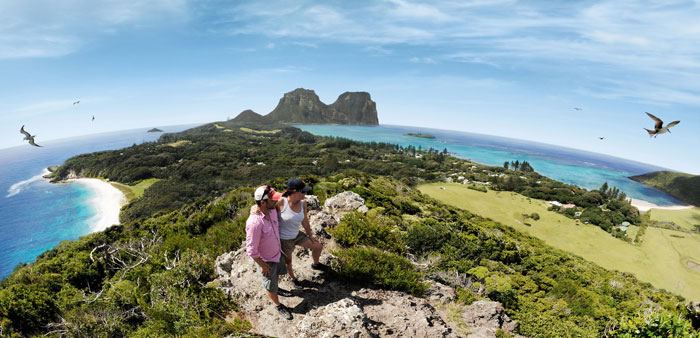 It's rare we get to offer our supporters a trip of a lifetime, one that will help make history, but for a limited time we can.
How would you like to be part of a global conservation project on one of the most unique and beautiful places in the world, Lord Howe Island?
Right now the Lord Howe Island Rodent Eradication Program is being rolled out, and by May you can experience first-hand the eradication and recovery efforts that will change the lives of critically endangered animals.
If this sounds like you, visit the Lord Howe Island Rodent Eradication website for more information about the project, how you can get involved and to make travel arrangements.
But be quick, there is limited availability and the offer closes on 2 February 2018.
More about the project
Three quarters of World Heritage Lord Howe Island is protected in a park preserve. It is encompassed in a marine park and is as fascinating as it is beautiful.
With a legacy of world class conversation projects under its belt, the latest project has been 10 years in the making and is the largest undertaking of its kind anywhere in the world.
The protecting paradise package experience includes:
Opportunity to watch and experience a world first conservation project.
Experience Lord Howe Island's huge range of hiking trails.
Interact with critically endangered species of flora and fauna.
Guaranteed places at special workshops and briefings only available during the eradication program.
Exclusive packages 7 days from $1099 (flights and accommodation*).
Lord Howe Island's outstanding universal value is recognised in its World Heritage listing for exceptional diversity of spectacular and scenic landscapes and for its rich biodiversity including many threatened and endemic species found nowhere else in the world.
The chance to be part of this incredible conservation project is one not to be missed. If you'd like to read more about the project and the special workshops and briefings visit the Lord Howe Island Rodent Eradication Project website. This includes information about volunteer roles for those with selected skills who visit during the eradication program.
* Exclusive packages are for five or seven night flight and accommodation, most between 14 May and 16 September 2018, ex Sydney or Brisbane per person on a twin share basis. Prices start from $859 inc GST per person ex Sydney for five nights. Prices for other departures available on request. Secure your place by booking now, until 2 February. While workshops and other special eco-tourism activities will take place 14 May – 16 September, the eradication program is subject to weather and other influences outside of the control of the Lord Howe Island Board and may be delayed, extended or cancelled at short notice.
Photo of Lord Howe Island courtesy of the Lord Howe Island Board, Lord Howe Tourism.